Learn More About SoFlo Pool Decks and Pavers of Delray Beach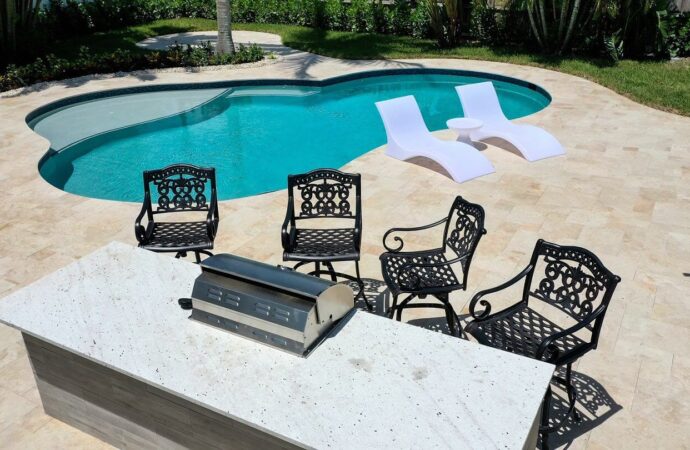 At SoFlo Pool Decks and Pavers of Delray Beach, we have worked with all pool solutions and services for over 20 years. Hence, you can find pool deck resurfacing, pool remodeling, pool refinishing, and many more options for your space so that you can enjoy and keep it safe and in good condition. All you have to do to access our services is call or email our team. You can also use our contact form and schedule a visit so that you get a free estimate for any of the projects you have in mind.
We can provide a full assessment and ensure you are clear about your project before we even start. In fact, we can give you multiple options so that you have alternatives around budget, preferences, and what can be done in your space. Additionally, our team can give you advice and recommendations as we are here for more than delivering a service. We want to cover all your needs and worries in case you are struggling or need a hand with the space. Therefore, feel free to ask every question and clear doubts with our contractors. We will gladly help you and ensure you are comfortable with the results.
But why choose us as the contractors for your space? It is simple. We have over 20 years of experience in the area and focus on expanding our services while improving quality. You won't have to worry about poor conditions and solutions leading to more expenses due to our efforts.
The entire pool deck resurfacing industry isn't a place where every single person that claims to be a professional actually is, as it takes a lot of time and effort to be someone who can deliver great results and make sure it lasts so there's no need to repeat it nor make the client spend more money and time. This is why you need to take the time to find the right people in Delray Beach and make sure they are qualified and experienced for the job. Our team at SoFlo Pool Decks and Pavers of Delray Beach is committed to providing high-quality services that will bring all the beauty to your pool area and ensure you get a result that does not need to be handled only a few years later.
Our experienced and licensed contractors can perform all aspects of resurfacing, including pool coping, spray, and eurotile work—and the latter is gaining popularity throughout the state and in the city, but not many know how to handle it accordingly.
Pool deck resurfacing is a well-known service in the pool industry, and although not all people need it too often, it will be required at some point. After all, this is mostly used to repair and restore decks. The professionals should be able to offer additional services around the pool, as well as the surrounding area.
We are aware that pool owners often consider resurfacing their pools or repairing and building them themselves. If you're wondering why pool contractors are better than you doing it yourself, it's because you need to understand how each material works and how you can create different styles.
It is important to know the purpose of your pool deck and which materials will produce better results. This is what a reliable contractor can bring to the table when they are hired.
Our team has the ability to work with a variety of materials, including concrete, pavers, and acrylic. We can also help you choose from a variety of styles and designs. We are your experts, and you won't need to worry about the costs or all the details.
We understand how important it is to have the best pool deck possible. We want your pool deck to last at least ten years. Many of the pools and decks we have helped with are well past their ten-year mark and still going strong, which is exactly what we want to achieve in your property and entire space.
Our pool deck contractors are more experienced than the regular contractors in the city and surrounding areas, as they have over five years of working in resurfacing. This includes all aspects of coping, installation and repairs.
We Are Here. There's No One Else You Need
For over a decade, we have been providing services. We have always hired only the best specialists over the years and made sure that all of them meet our standards and needs. Experts who believe they are able to do more than is necessary or have the right to make adjustments are not wanted. You should be our priority. That is why we require qualified individuals to assist with your resurfacing needs and other services you end up requesting for your space.
We ensure that every contractor is equipped with the correct materials, equipment, and tools and is properly trained to complete the job efficiently and without compromising on quality or durability.
Below is our list of additional services: