Pool Sun Bench Installation Services for Delray Beach Residents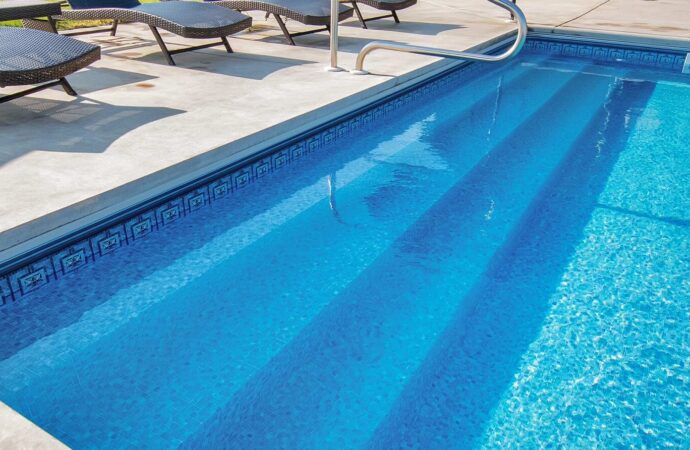 Pool sun bench installation is a good option and feature when you want a place to relax after diving in the pool… but without having to leave it. As long as your pool structure and design allows it, you can add value to your property while enjoying the space more, thanks to how the bench opens the option of spending more time inside the pool. Therefore, focus on finding reliable contractors in case you are considering the project. At SoFlo Pool Decks and Pavers of Delray Beach, our team assists in every step so that your pool bench is neatly done and durable. As a result, it won't bring more expenses or issues to your entire space.
Although some people consider sun benches a waste of time and resources, they can be quite useful when you have them to add more aesthetics to the space. For instance, some of our clients have used it to create the effect of an infinity pool. Even though it is a bit off in terms of the actual design, the benches add dimension. As a result, you gain a functional feature while adding the aesthetical part without adding more elements.
In the case of considering it for your pool, it is more of a "you" use. What does that mean? If you are looking for a feature that allows you to relax and spend more time inside the pool without feeling tired, you will want it no matter what. On the other hand, it can be a good addition when you have to consider people with disabilities and how comfortable it would be for them or you.
How Viable Is to Install a Pool Sun Bench in Your Pool?
---
It will depend on the type of pool you have and its size. Some installations are limited due to how it is impossible to add them on the edges or entrances. Therefore, the inspection and assessment of the pool will be crucial to determine if the project is possible.
Gunite and lap pools are the common ones where sun benches are used. Your infinity and luxury pools can be added to the list too. Unlike what you may think, fiberglass and vinyl finish in the pool are also viable so that you get the best from the sun bench.
With this in mind, which ones aren't the best pools where you shouldn't install the feature? Unless other companies and contractors, we won't tell you that as long as you work around it, you can get the bench installed. While we think installation matters greatly for quality, some surfaces and spaces won't provide proper performance and experience. Hence, the sun option will be a hassle and problem in terms of space.
Pools with tiles and quite damaged by the elements won't appreciate the bench. Some exceptions can be made whatsoever. Therefore, allow our team to give you a more accurate inspection and option based on the visit you schedule with us.
At SoFlo Pool Decks and Pavers of Delray Beach, we have your best interests in mind. As a result, you can expect top-quality installations and services so that you know the process won't disappoint and your investment will be safe.
How Much Does a Pool Sun Bench Installation Cost?
---
The type of bench, size, and design matter. The complexity of the project is a variable to consider as well. Therefore, prices will always vary depending on multiple factors, and those include your budget and how much you're willing to spend on the project.
Since we consider all aspects and do our best to find a balance, expect our team to focus on budget, quality, durability, designs and aesthetics, and longevity. Additionally, we must include your pool's size, type, and current condition. Then we will be able to provide the final price for the installation.
Whenever you decide to work with our contractors on the project, you will get a full quote that comes with the installation plan and how it will take place. You can expect to see details like these:
The materials to be used and each one's cost.

All steps will be listed and include the materials and products used.

Labor costs and how many people will be involved and why.

Your budget and how we are adapting the design to it.

Any details about the post services for maintenance and considerations?
In case you have a clear idea of the type of pool sun bench you need and want, we will just come up with the design and plan for it. Hence, you are free to choose any materials and products, and as long as we know they don't interfere with each other and are good alternatives, we will continue with the process.
How to Contact Us for Your Pool Bench Installation
---
All you need is a call or email. Whenever you want to ask questions and send some details, including pictures, we recommend sending a direct email or using our contact form so that our team can reach out and open a better channel for you.
Unlike other companies, we offer two options for the estimates or quotes:
You can send us the details and we will reply with the quote based on the information provided—this isn't accurate.

Our free inspection can be scheduled anytime, and we will be more than happy to give you a quote after we assess it and listen to your specific request. Unlike the previous option, this is an accurate quote process.
Whether you pick one or the other, adjustments can be made. Therefore, don't feel pressured that prices will vary significantly, or you will have to stick with them.
In other words, we work for you based on your needs. Contact us anytime and feel free to ask all your questions and clear doubts with us so that you can install your pool sun bench in no time.
Below is our list of additional services: