Travertine Installation Services for Delray Beach Residents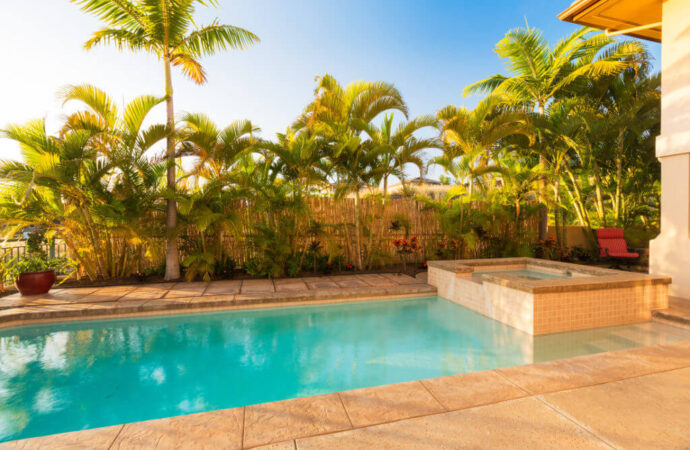 Working with brick pavers or stamped concrete isn't everything. Travertine installation, for instance, is a great option for resurfacing your entire pool deck so that you get a durable and affordable alternative. Unless you are convinced of using a specific material or there is one you have always wanted, we recommend considering travertine out of all your options. This way, you will be able to get more for less. As long as you work with reliable professionals like us at SoFlo Pool Decks and Pavers of Delray Beach, you won't have to worry about quality.
For over 15 years, we have worked with travertine in all pool decks. Therefore, you can rest assured that our contractors know what it takes to get the perfect result. In case you have your doubts and questions about your pool projects and if travertine is a good option, we start from there. In other words, we will guide and advise you about the material so that you know it better and make a well-informed decision when considering travertine for your deck.
We are able to work with multiple colors and designs, and coupled with its longevity and durability, you won't have complaints about the surface. We can guarantee this as well, as our team only focuses on getting the perfect result, not just a satisfactory one. Hence, you can rely on us, and rest assured you will not have to go over the installation again or spend more than you want and should have to.
Whenever you are designing a new pool or working with resurfacing, you should always consider the materials and options that bring durability and longevity before anything else. Your deck mustn't be too hot or slippery for anyone to use as well, which is why these considerations need to be added to the line of thought for your decisions. As experts in this field, we remind you that it is crucial to weigh all the pros and cons when choosing a surface. Our team at SoFlo Pool Decks and Pavers of Delray Beach is well aware of this, and among the options available, we highly recommend travertine installation.
The beautiful look of a new travertine installation can be achieved by having us install it around your entire pool area or additional areas based on your request. We want you to be satisfied with the design. However, you must remember that durability and longevity are essential for a surface you will love. This is our main focus during this project as we look at your needs and best interests so you don't spend more on this process.
Travertine can be used in many ways. You can create unique looks and textures as long as you hire professionals who know the function of the material and how the surface will perform in an area where water is more common.
You want to ensure that the next option lasts for at least a few months when you are replacing your pool deck, so considering all options is good, and, in this case, we're going over the travertine one.
If you are interested in travertine or would like to learn more, be sure to read about the many benefits and how it can help you achieve the results you desire right below:
Non-slip technology adds safety to your space and protects you from any injury. Swimming pools can become slippery, so be careful. Travertine will give you more absorption, provided that it is properly installed and as long as you remember to perform maintenance which doesn't need to be done often. However, it is still needed to guarantee the best performance and durability.

It is also heat resistant, which means it can withstand extreme weather and scorching sunlight and will prevent the surface from being hot, allowing all people in the space to walk and stand without any problems and feeling like their feet are burning.

Travertine is quite durable. Pool decks are prone to having many features and furniture in motion. Therefore, it is ideal to consider how long the pool deck can last, how much traffic it receives, and the number of elements you can add to it or plan to continuously have moved and placed over the years.

Its remarkable longevity is what makes it so special. Its durability means that it will not crack or become easily damaged for over ten years. This is part of the natural connection to the result.

It doesn't cost much to maintain the surface. It requires very little maintenance, and repairs are rare. They're also affordable and easy to perform as long as you find reliable professionals, and we are also here to deliver these services as needed and requested.
How to Install Travertine in Your Pool Deck
SoFlo Pool Decks and Pavers of Delray Beach contractors are here to assist you during the entire process. We want you to be confident in your decision-making and satisfied with the final product.
We have been installing travertine for over 14 years. We trust the skills and experience of our professionals. They have experience in residential and commercial properties and smaller and larger projects that require several days to complete.
Pool decking is an important feature. This is obvious, but many people underestimate how much work it takes. We are always happy to discuss the importance of pool decking.
Creating a safe environment and surface that allows people to enjoy the pool is essential.
Our job is to ensure that you receive exactly what you want. We know what needs to be prioritized and what can be solved. We know that you may be interested in travertine for a first or second surface. No matter what your need is, we are here to assist you.
We can help with any project, no matter how big or small.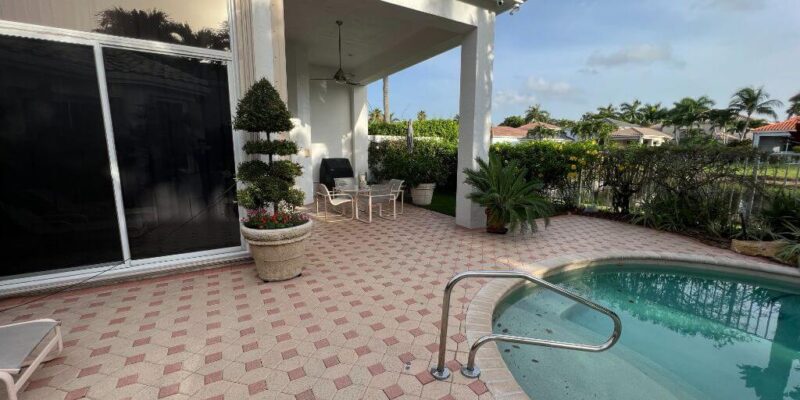 When compromising yourself with this material and surfacing option, we want you to remember that travertine cannot withstand freezing temperatures. Still, it shouldn't be an issue for Delray Beach and the Florida cities. The freezing temperature makes it so that cracks can form easily, so don't treat yourself like this if there are better options and if you aren't in Florida or a hot state, to begin with.
Although residents aren't subject to freezing temperatures, it is something that you should consider in case of hurricanes or storms. Although the material is water-resistant, as expected for pool decks, it is important to be aware of the water's temperature to prevent any future problems and repairs.
Porousness issues can also be caused by a pool that is located in an area with a lot of dirt. You will need to be more cautious than usual with your pool deck.
This surface option has the best advantage of being very affordable. A square foot can be purchased for as little as $5 and as much as $34, but it's worth searching for the right company to get high-quality products as well as professional installation.
We only use the finest materials and tools to ensure that the result is long-lasting. We care about every detail and material, so it is clear that the result will be stunning, and rest assured that our prices are affordable.
We will make sure that the materials and the entire project are something you can pay for. We will work with you to meet your budget based on how big your pool deck is and how labor-intensive the project will be.
Below is our list of additional services: