Commercial Pool Deck Resurfacing Services for Delray Beach Homes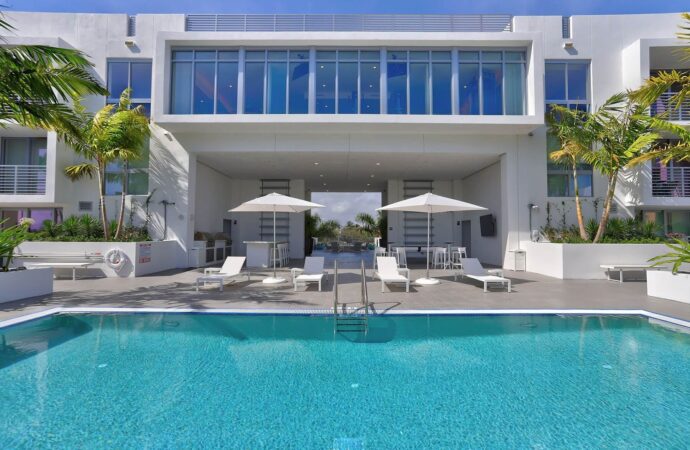 Commercial pool deck resurfacing is key to keeping your space in good condition. In case you have a hotel or any type of business, you will want your guests and clients to be safe and enjoy the space. Therefore, you need to work hard on how your pool area looks and also performs. At SoFlo Pool Decks and Pavers of Delray Beach, we are able to provide you with full support and assistance for your projects. In other words, you can come to us and have your resurfacing done with our contractors and even get a free estimate beforehand.
We truly prioritize the specific service you are getting. Hence, we focus on multiple factors when providing you with the estimate and parts of the service: budget, preferences, design, and durability. As much as we understand how pool owners prioritize aesthetics, we need to set the record and make sure you know that durability will be a step over them so that you have a space you can enjoy and avoid spending so much money in.
If you have ideas or projects in mind for your pool deck resurfacing, contact our contractors today. We have multiple materials and recommendations waiting for you so that you get a result that is beyond your expectations. as long as you contact us first and keep communicating with our team as we work on your project, perfection is guaranteed as we want to achieve more than just a simple "okay" from the outcome of the process.
It is always hard for commercial property owners to find genuine pool deck contractors that can deliver top services and guarantee good results that won't cost them more time. Not many can work with large projects, and other "professionals" will usually choose to focus on residential properties. Just to mention this relevance, commercial properties require more effort and time than residential ones. A durable, long-lasting, and beautiful service and result is what you want, and our team at SoFlo Pool Decks and Pavers of Delray Beach is able to give you what you need and want when it comes to commercial pool deck resurfacing for your space.
With over 16 years of experience in the field, we are certain that we will deliver great results you won't soon tire of, nor will you regret when you notice what we're capable of achieving for you. We are confident in what we do and have improved our methods and services over the years to continuously deliver top solutions to every commercial owner in the city and surrounding areas. We have contractors who are skilled in handling the materials so you can get the best result. It is crucial to ensure durability and longevity, and this is what we focus on even above the aesthetical part alone.
Now, we know many people wonder this: What is the best way to determine whether your commercial property is eligible for our services or not?
To be more specific, is a commercial service what you need and what should you be getting from our team so you can have a solution for your project and pool deck? The answer is much simpler than you might think.
We are happy to help commercial properties with a deck or pool, and this is regardless of the specific property they have, as long as the function itself is focused on commercial use. With this, we are aware that commercial properties such as apartments, hotels, and casinos, or maybe office buildings and specific spaces with a pool deck, will need our help to have a stunning space.
These areas are well-known to us, and we can help you get the most out of your pool deck, so if you rely on our experts, rest assured you will get the following:
We will ensure that all repairs are done with a new coating.

It is important to have a new design and a clean style. We will help you with your choices in colors, textures, and materials.

You want safety and comfort, so make sure that the surface is not slippery. This is possible with any of the materials or resurfacing options available.
Will It Take Too Long to Finish the Commercial Project?
It all depends on the size of the deck, the design that you choose, as well as the preparations required before we can start any project. We will work with you to create the best design and final result, but when it comes to establishing a timeframe or deadline, you need to consider all variables and work around them to have a realistic time to finish the project.
It is hard to determine an average cost and time for resurfacing right away or without proper information and a look at the space where the job will be performed. After all, everything is about a customized service and design, not a general one that we can copy and paste. Remember that working with a new property or pool deck will be based on your specific space and requests for it.
If it is possible and you are willing to close your pool deck for several days, then we can complete the job in a few days. This usually takes around one week in most cases, but it is all about the difficulty and extra time some elements may take. We will make sure that you don't lose time. Your pool deck will be ready for use as soon and as dry as possible. While we want to offer quick service, we will not compromise on quality or durability.
All things are important to us. We respect deadlines as professionals, but we will be transparent about the duration of the project after we have collected all the information about your space. This will include the details you require and how we will approach them.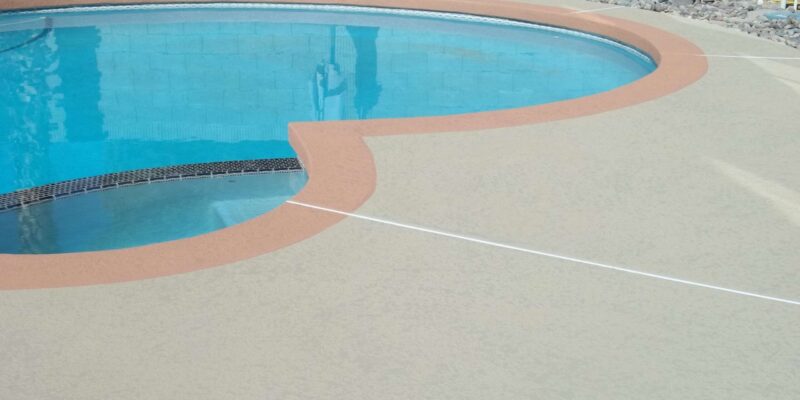 The main factor in this decision will be the design and type of resurfacing. Although the size of your pool deck is important, it's possible to complete a surface in a matter of days if you choose the simpler option. Large spaces may take up to two days with some resurfacing alternatives, such as spraying the deck or maybe using eurotile.
If you have a specific design in mind and it calls for additional colors, textures, or patterns, the deadline will need to be extended accordingly.
We will help you navigate the process and provide all options along with their pros and cons, so you can make an informed choice and understand why some may take more time and work than others.
How Much Will You Spend on Commercial Pool Deck Resurfacing?
Sometimes, resurfacing is cheaper than you might think. It all depends on your choice and your needs, and pretty much the same variables that apply to the timeframe we can set for the project.
SoFlo Pool Decks and Pavers of Delray Beach can help you navigate the commercial project. We will help you select and negotiate a price that fits your budget. Before we start any work, we will give you a free estimate so that you have an idea of what the investment is. We will need the following information to do this:
The size and location of your pool deck.

The design and style you prefer.

Repairs may be required throughout the process.

If you have a deadline, you would like us to stick to it.
We would be happy to assess your space and give you a cost estimate based on our conversation. You can reach us by email or phone if you prefer. We are here to assist you in any way we can and answer all of your questions, and remember that assessing the space in person can speed up the process of having an accurate quote before you even decide to work with us.
Below is our list of additional services: