SoFlo Pool Decks and Pavers of Delray Beach Services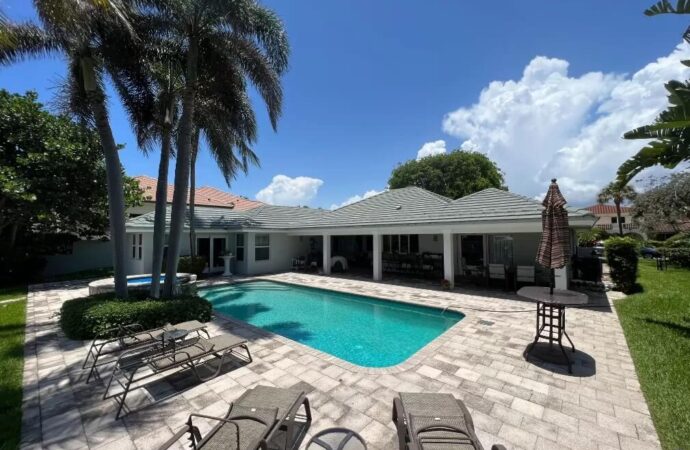 As a result of having multiple companies in a single area, you have many more options and opportunities to access the team and professionals you need. But this also comes with consequences, as it is difficult to determine who will deliver proper services. Therefore, you need to be careful about whom you hire for pool deck resurfacing or other solutions in the area. SoFlo Pool Decks and Pavers of Delray Beach is a company that offers you all services around your pool area. Hence, you can find pool remodeling, pool lighting, and more options in our business that will address your projects and focus on new needs.
How far do we go with the services we offer? Unlike other companies, we want options that cover your pool and the area where it is located—usually your deck and other elements. This is why we have services that go over the different features and options in the space so that you can have professionals working on getting the best results. We will be here whenever you need pool deck repairs, different surfacing, or even pool refinishing. With over 15 different services, you can find the one that adapts more to your vision and needs.
In general, you can have our contractors working on your multiple projects or small and large-scale ones individually or as a group so that you handle different needs simultaneously or finish a project regardless of its complexity. In other words, we take on any challenges and are ready to offer our support.
Many professionals have difficulty offering multiple services, which is what leads them to focus on pool deck resurfacing alone, and even so, they don't have that many options when it comes to the type of materials they work with. At SoFlo Pool Decks and Pavers of Delray Beach, we have worked hard to achieve the best results and expand our services as we add more professionals and qualified experts to our team.
It is important to ensure that all potential contractors in our team have the right experience and qualifications to provide a broad range of solutions. This is something you should also be concerned about as a potential client and someone who will be using those services. 
Experts may have more options than you think, but they might not have the right skills, or they are trying to give all the information but are not able to deliver great results and just want you to request the service, so they continuously get more businesses. 
Our team at SoFlo Pool Decks and Pavers of Delray Beach worries about every single detail. As mentioned earlier, our professionals are qualified, and we worry that they are actually experienced to deliver each one of the solutions we can offer and continue adding over the years. Our experts use only the best materials and tools. They will show their expertise and qualifications and produce a beautiful result for your pool, deck, or entire area as requested and needed.
We are available for pool deck maintenance, repairs, and resurfacing. Resurfacing is necessary to repair cracks and damage to the entire area of the pool deck or feature. However, it can also be requested for aesthetical purposes, as you can remodel, renovate or have a new design for this outdoor feature that will bring a new ambiance to the space.
Anything you need, we can do it. Your pool deck can be remodeled using travertine and diamond brite. It is as easy as asking for the service you require and allowing us to talk with you about the details so we can satisfy you in every way.
For those who aren't certain what they want, we offer many options. It can be difficult to decide what you need or want for your pool deck. We listen to what you have to say and will help you find the best solution.
Our team can assess your space and offer all the support you need. You don't have to be embarrassed or ashamed to ask for our assistance in achieving your desired results or in asking all your questions because you aren't sure about what's right or not.
We are happy to provide our services, which start right during our guidance and recommendations in any of the projects.
Get a feel for our capabilities and learn more about the solutions we offer homeowners and business owners right below:
Contact our team for more information about each service. We will be happy to answer any questions you have and provide you with a quote based on what you need and all details you provide us with.
Below is our list of additional services: