Spray Deck Services for Delray Beach Residents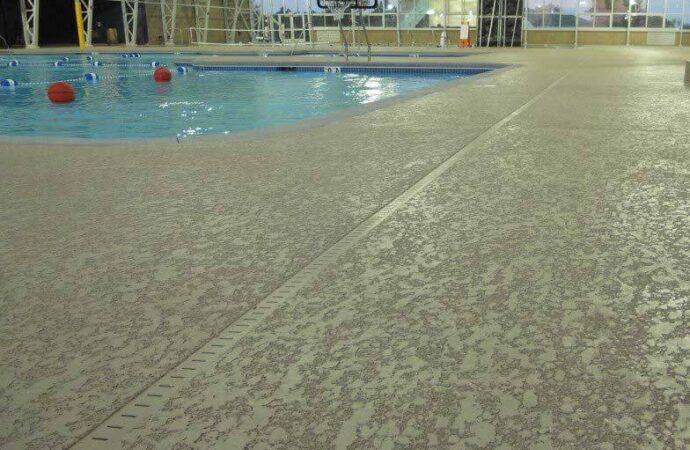 A Spray deck isn't an option most pool owners consider. We dare to say that not even most contractors in Florida think about it. However, we highly recommend it at SoFlo Pool Decks and Pavers of Delray Beach so that you can have a durable and stunning surface for your space in no time. In addition to its affordability, spray decking is quite durable and can be done in less time than any other surface as long as you have the right professionals working on it. Therefore, don't hesitate to consider it aesthetics, and designs won't be limited either.
This surfacing option has been quite popular among residential pool owners who are tight on budget to resurface their pool decks. However, it ended up being quite the option in case you want a quick and unique result. Hence, you won't have to repeat the process or worry about quality. You can opt for it anytime, and regardless of the type of existing surface you have, it can be customized and considered.
You can have our team working on the deck in record time as long as you contact us first. We will work around your budget so that you can have a stunning and durable surface. The best part about the spray deck is that longevity won't be a concern, and future services such as repairs or resurfacing won't be expensive. Therefore, you can relax in every aspect: the design, style, and functional benefits you get from this type of material and our team's expertise.
Pool owners, be the pool installed in a residential or commercial property, will need to think carefully about resurfacing their decks at some points since this area gets damaged over the years, or maybe because they may want to bring a new style and design that will stand out in the outdoor space. Whatever the case or reason is, it is a matter of being open to it and knowing all your options. Recently, the spray deck has been quite popular due to its durability, longevity, designs, and how easy it is to install or work with, guaranteeing that all owners get their pool decks done in no time. At SoFlo Pool Decks & Pavers of Delray Beach, we know best as we are familiar with how spray works and the many benefits it brings if you decide to choose it for your space and the feature in your property.
Although it may not feel right or attractive to everyone due to the basic design you imagine or can see online, it is an option for those who want durability and affordability. They don't care too much about the final style so long as it complements the rest. However, this doesn't mean it is actually ugly. What it takes to have a stunning result are experts who know how to work with the material.
You can resurface any surface or deck with the spray pool and the available product. The product and spray pool cost will not exceed $5.000 in most cases, and you can also get lower prices. You will be satisfied with the end result if you find experienced professionals handling the product. This will ensure that it lasts for many years and that you won't have to worry about it turning into an eyesore.
We are proud to offer this service, having served Delray Beach pool owners for over 15 years. We pride ourselves on our ability to spray deck your pool area. We use high-quality materials, and our skilled professionals will shine and bring the best results as we simultaneously focus on what you want and need.
Many options are available for pool surface surfaces, including brick pavers, re-pouring concrete, and natural stones. However, these materials can be costly for homeowners who are trying to keep to a budget or don't have the luxury of choosing from a wide range of options. Even commercial property owners can see themselves tight, and maybe the designs and benefits they bring aren't what they are trying to achieve.
Pool Spray: What's the Fuss & Why Should You Join It?
There are many ways to resurface a pool deck, depending on the existing surface and the materials used. You can spray a textured product on the surface to cover it and another one that can be applied over it; this is the beauty behind this option we're introducing you to.
It can be used where concrete is the main surface. It covers the surface and mimics the texture and design that can be achieved with cement as your main material. Concrete is the best foundation, so even if you have damaged areas, it will give you a neat and clean resurfacing result. The whole process will cost you nothing and will be completed in no time.
The spray can be customized with a variety of colors and textures. Although it isn't the most attractive surfacing option, it doesn't make it a bad choice. Take a look at the results you can achieve with it. It all depends on your perspective and personal preferences. It is up to you to decide your needs, budget and desired outcomes for the project.
If you have any questions about the selection, our team is available to help. We will also be able to provide detailed information on how this coating works, and we want to point out that concrete isn't the only surface where it can be sprayed as long as the conditions or shape of your current ones allow for it.
Spraying Your Pool Deck for Better Results
The options available can be narrowed down so you can choose the one that suits your needs best. You have two options when it comes to spraying and having your entire deck designed: color or texture.
You can spray the product on a smooth surface. This allows you to continue to use concrete and similar resurfacing options. You can also choose a more rugged design inspired by the way professionals spray the spray to cover any surface.
These finishes include bubble and pebble. You don't have to settle for a standard finish. Well, you can, but only if this is your choice and you want to work around the common surface; you can get it with concrete or other materials.
Due to the nature of the spray, you can choose any color.
These shades suit traditional and classic designs the best. These colors are recommended if you don't have any plans to change or want a neutral look. You can also pick from deeper tonalities like gunmetal or terracotta.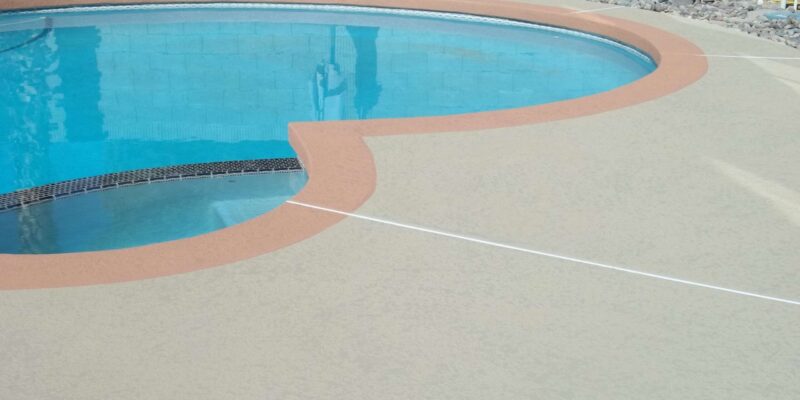 Is Spraying Your Pool a Good Choice?
It's durable and affordable, with many benefits listed and that you will learn about as you grow interested in the designs and consider it an actual option.
In our experience, it is a great choice for resurfacing by itself, but also because it prevents damage and prevents repairs from happening too often, it will be a joy to have. It is affordable for both homeowners and business owners to have a new, beautiful surface. It doesn't matter how it looks. They can get different results depending on their needs.
Contrary to what many people believe and what you may have guessed from the spray's name, it is slip-resistant as well as heat-resistant. It is ideal for pool areas, and it is not like concrete or brick pavers.
It all depends on the skill level of the sprayers. The standard will also affect the quality of the product.
SoFlo Pool Decks and Pavers of Delray Beach only uses the finest products. Our services are high quality. We won't pressure you to spend too much if you don't have enough money or don't need the services.
Spray your deck with our sprayer and make sure it can withstand any weather. Get in touch with us to get a quote for your deck.
Below is our list of additional services: