Pool Refinishing Services for Delray Beach Residents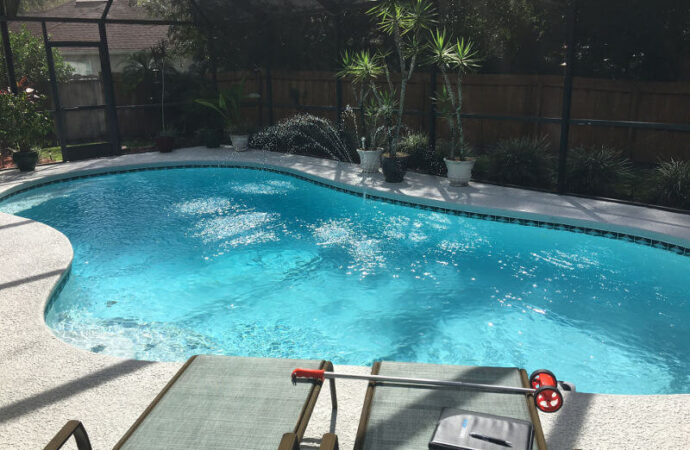 Some services are required every few years so that your pool area can perform well over time. Pool deck repairs, pool deck resurfacing, and more can be listed. You will realize that pool refinishing is crucial and equally important as regular maintenance. Still, unlike other options, it can be done every 4 to 6 years, depending on the type of material used and the professionals assisting you. At SoFlo Pool Decks and Pavers of Delray Beach, we are able to provide you with full support so that your pool is in the best hands, guaranteeing quality and good condition as a result.
For over 20 years, we have supported residential and commercial pool owners equally. Therefore, you can rest assured with our team as we will aim for the best results while keeping in mind your best interests, starting with your budget and needs. Then, we can focus on your preferences in terms of style and design so that we get a good balance in the project and process for you.
In addition to being the usual contractors that can provide the service, we are here to be guides and advisors. Hence, you can ask any questions and work with our team so that you are clear about what pool refinishing is and how it works. You will get to understand how we get it done and how we are able to achieve clean and stunning results that delay having to refinish often too.
What Is Pool Refinishing? Is It an Extra Service?
---
You may know about pool resurfacing, similar to pool deck resurfacing, but the materials and products used differ. However, the premise is similar. In case you are familiar with it, resurfacing is the same as refinishing under those circumstances.
It is part of the maintenance process for your pool. Just like cleaning and pool acid washing, you want to keep your pool refinished so that cracks and damage are not issues. Moreover, it keeps the aesthetics and style of the pool intact and provides better experiences and good conditions for you and everyone else to use the feature.
How does refinishing a pool work? Our company will replace or remove the top layer of the pool surface. As long as you contact us first, we will be able to be there to focus on your needs and what's the best option for your pool. Hence, you can contact us and ask any questions.
Focusing on the question above, resurfacing your pool helps to rejuvenate the surface and deal with repairs. Cracks and leaks, coupled with discoloration and filtrations, can be issues to continue using your pool and even affect the rest of your structure and pool area. Therefore, we recommend prioritizing this maintenance process, which is equally important as adding new features or working on your personal projects.
In other words, you can consider it an extra service, but it is part of owning a pool at the end of the day. Henceforth, it doesn't need to be done every month or year, which means it isn't a consecutive expense in your property and feature.
What Types of Pool Finishes Are Available?
---
One of the beauties of working with this service lies in how you can bring a new look to your surface if you wish for it. Additionally, you can access different types so that you can adapt your expenses to the type of finish you are using. At SoFlo Pool Decks and Pavers of Delray Beach, we highly recommend considering some factors when choosing the finish:
Your budget for the project and how you can maintain the finish and pool in the short and long term. For instance, some finishes will be more expensive to refinish every time.

The aesthetics or style you are trying to achieve. We can provide some recommendations as long as you tell us what you are trying to keep or get.

Durability and longevity are equally important to what you are looking for in a surface and finish.
With this in mind, we are able to give you some examples of the finishes you can choose:
Plaster is the most common material, and it comes in different options: white, aggregated, and pebbled. It is often the most durable depending on the option you choose since pebbled, for instance, can last over ten years, but this also means it is more expensive.

Tiles are the common design you can get with a wide variety of finishes and colors and textures. As long as they are neatly done and installed, they can last over five years and be easily repaired and replaced.

Fiberglass is a favorite as it adds versatility and strength to the pool. It is cheaper and as much as you may not like some fiberglass, our products can help change your mind.

Aggregates are some options; you can customize them with extra substances and mixes.
Is Pool Refinishing Expensive for Pool Owners?
---
Not at all. The previous factors will make the prices vary depending on your projects and options. The product and professionals you use and hire for the service will also influence it. Moreover, you want to consider the pool's type and size.
You can expect spending from $1.000 to $10.000 per 1.000 square feet. In case you have a smaller pool, the price will go down accordingly. At SoFlo Pool Decks and Pavers of Delray Beach, we can provide you with a free inspection and quote so that you know how much it will cost, on average, before you take the step.
As long as you contact us first and are open for the inspection, we would love to be there for you. In addition to our service, we are guides and supporters. Therefore, you can ask all questions and feel free to clear doubts with our team.
In conclusion, prices will vary depending on what you want to refinish it with and how we adapt to your budget. Hence, don't worry about it and contact us for more information.
Below is our list of additional services: