Eurotile Installation Services for Delray Beach Residents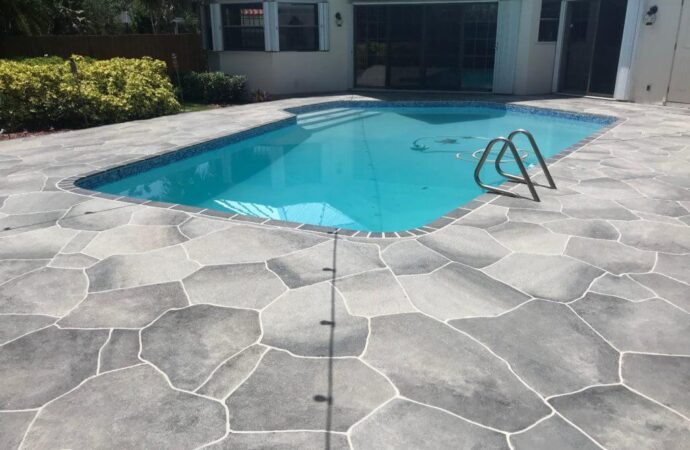 Most surfacing options for pool decks can be quite expensive. Take brick pavers as an example. As much as you love the traditional and classic results they give, it can be quite an expense, especially when you are not within budget or thinking about going for more projects. In case this is your situation, eurotile is a great alternative. The material allows you to imitate several types of surfaces for lower costs and experience durability and longevity in the process. We have worked with the material for over two decades at SoFlo Pool Decks and Pavers of Delray Beach. As a result, we know what it takes to get a clean result for your space.
Eurotile is quite new to people, but it isn't an option that is just being introduced to the market. However, with so many options and surfaces, such as stamped concrete, going popular, it isn't the first or second material among people. Unlike other companies, we have liked it since the beginning as it offers more options within the budget, and you won't sacrifice quality in the process. Therefore, most pool owners are able to get the desired design and longevity without spending a fortune.
Learning more about this surface is possible by contacting our team and asking all your questions. You can clear all doubts before deciding to work with the surface. Hence, don't feel pressured about hiring us right away. As much as we know you need services, it is always a good move to feel confident about whom you are hiring, and the service requested.
Concrete and brick pavers are the best choices for your pool deck surface, or this is what everyone will usually tell you when you ask them about pool deck resurfacing or just working with general surfaces in different spaces. While they can be used frequently and are very durable, they can also be difficult to install, not to mention their costs and how much you could end up spending for having them on your property. Besides, they may not be the best option for all situations. Eurotile, on the other hand, is a cost-effective option that can provide a durable and beautiful surface for every single pool deck. It is highly recommended by SoFlo Pool Decks and Pavers of Delray Beach since we have been working with it for many years, and we love it because you can particularly replicate many styles and designs while also getting a more durable surface.
This option allows you to create a sophisticated, elegant look. It's much easier to achieve the desired result with concrete or brick pavers until you find out that eurotile can be a good option in most cases. When working with pool decks, you will need to weigh each material's benefits and drawbacks. If you choose us, you don't have to worry that the professionals are going to be there and work poorly since our team is always working for the best results and is completely qualified to achieve them.
When weighing the pros and cons of eurotile and considering every detail it entails, we often focus on its durability and strength. It can even provide a beautiful, clean surface for over a decade. As long as the surface is properly installed, repairs are rare, and you won't have to worry about maintenance as much as we other surfaces.
They are common to be found in pool decks and areas with more than one space dedicated to entertainment and enjoyment. Most people are beginning to notice how beautiful, cost-effective and durable they are. The style and design of the product can also be a factor.
It's important that you learn more about eurotile before deciding to use our service. We are happy to assist you in selecting the right surface for your needs and making sure you have all the details and information clearly, so you don't regret going for this option.
Take Notes: What You Must Remember About Eurotile
We get that you may be hesitant about all the options for your pool deck. This is because concrete, brick pavers, and travertine shine the best. We are certain that you will not regret learning about eurotile whatsoever as long as you are a bit open-minded about it.
Eurotile is a durable, long-lasting product that can be used for many purposes. Eurotile is easier to install than other materials and surfaces. It will also absorb water much better and maintain the surface as dry as you need it. This is an important consideration when designing your pool.
Eurotile has enjoyed a lot in popularity over the past ten years. It is made of acrylic and concrete and has heat-blocking qualities that are extremely beneficial for both local and state climates. You can have many styles and designs, as this is what most homeowners want.
Our team can help create the appearance of natural stone or Mexican tiles, slate, or flagstone. To do this, you must be able to use the material correctly. We have more than a decade of experience with it. We will make sure your space looks great and won't cause any quality problems.
It is simple to understand the product's structure. Consider its many benefits, and you'll be compelled to make it your own surface:
It has a variety of styles and looks that are pleasing to the eye.

Two words to describe the material are: strong and solid. The option is amazing if you want to get the most out of your investment.

It can withstand heavy weights and extreme weather conditions and is excellent for pool traffic.

This is a great option for a first or second-time surfacing or installation.

You won't have to worry about it breaking down for over a decade.

It is safe and will not leave you with any bacteria you need to manage daily, as it isn't known to make everything worse. Stick to it.

Contact us to inquire about our pool deck service. We will present eurotile to your home and provide all the details you need to decide. This product is great for any pool, and we encourage you to look into it if you are looking for durable, specific designs at an affordable price.
The surface will be affordable and will yield a good return on investment. You can upgrade or replace the pool deck, and it will only require minimal maintenance.
All the Designs You Can Get with It
You can replicate different surfaces and colors. Additionally, you can customize colors to suit your outdoor space or pool deck in terms of the specific material you're trying to imitate with it and how we work with you to achieve the desired result.
There are nearly limitless colors available depending on the design that you choose. You can mimic Mexican tiles and natural stones. As the style or design changes, there are more options.
You can choose a very durable surface or one that is smooth and smooth for textures. It all works together most of the time. It is highly resistant to all weather conditions, so it won't get too hot or slippery. Because of the consistency of the main materials, it will stay cool. It will result in an absorbent surface with all the benefits of a solid material that creates a safe zone.
Get more information from our team and get the best eurotile results thanks to the expertise of our professionals by having us assess your pool deck or allow us to listen to all the information you have to share. We will be here to give you the most accurate estimate for your project.
Below is our list of additional services: