Pool Deck Resurfacing for Lake Worth Beach Residents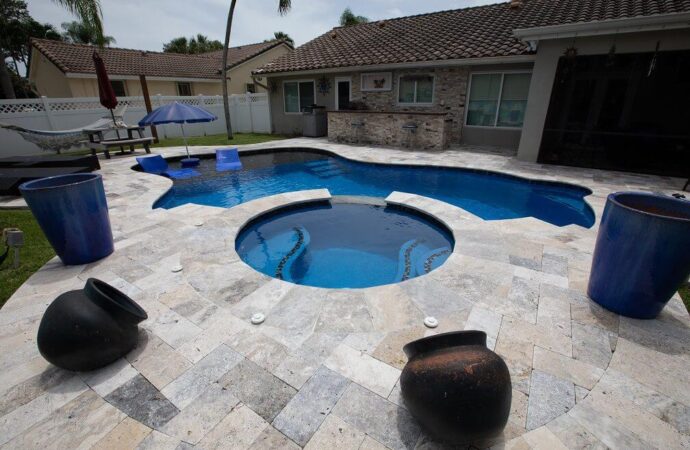 Do you own a pool in Lake Worth Beach? Our contractors at SoFlo Pool Decks and Pavers of Delray Beach can provide support and assistance for all services you need. We have been providing pool deck resurfacing, repairs, and even pool acid wash for over 18 years. As a result, we have mastered each solution and can guarantee top-quality results for your space. Moreover, you can have full remodeling and renovations thanks to our team so that your space is unique and finally in good condition to be enjoyed.
As much as we prioritize durability, longevity, and aesthetics to make you happy, we know your budget is above everything else. Therefore, we will find a balance between what you want and need and what you can afford. In case you cannot afford some of the options or you have a hard time deciding the service and how it will take place, we will lend a hand. Remember that we are more than contractors to deliver a single solution. Instead, we are here to guide and support each step to make your life easier and more comfortable.
In other words, you can consider us the professionals having your service and project done, but above all, we are here as advisors so that you can make good decisions. Take your time discussing the project with our team; we will be more than happy to help. In essence, we consider everything and get you the perfect result regardless of the service you are requesting.
When considering having your outdoor space stunning and making sure you and everyone else will enjoy their time together, you need to keep in mind that it will take time and effort to resurface, remodel, or maintain your outdoor features and surfaces properly, so they look amazing and also last for a long time. If you do not have the right professionals to ensure a successful outcome for your property, you could end up spending more money and wasting more resources when working on your Lake Worth Beach property. At SoFlo Pool Decks and Pavers of Delray Beach, we will provide you with all the assistance and support that you need to complete your project.
Our team of experts will make sure you are satisfied with the final result, whether it's pool deck resurfacing or any other services related to your outdoor living space and this particular feature everyone tends to enjoy and love all year round in Florida.
We try our best to ensure that homeowners and businesses or commercial property owners have a pleasant and safe outdoor experience where they don't have to worry about maintenance or frequent repairs. We must work hard and pay attention to each individual's needs and preferences to achieve a result that will last many years and bring all the benefits you're looking for; this is why we focus on establishing some standards and working around the perfect design for your space.
Resurfacing is something pool owners will need to consider, even though it may not be something they would normally do. Poor maintenance or damaged pool decks from long-term use or poor workmanship are all reasons why resurfacing is necessary. If your reason for relying on this option is aesthetic, we are happy to help you as well since we know many owners are just trying to make their pools look stunning and go well with a specific design they have in mind.
Resurfacing is an important process, but it doesn't have to be about just repairs. Resurfacing can provide a durable new coating and bring the final design and style you've been trying to achieve all this time. Many homeowners want to change the color of their pool deck, or maybe they are bored with the current style. We can help you navigate the process so you don't feel like your pool deck and even other areas, based on the service you request, turn out to be an eyesore.
Making Your Pool Area Unique
If you care more about the aesthetics of your pool or deck, we are happy to assist you.
We're not like other experts in the city, as we prefer to work with lighting and pools rather than the deck and all the surfaces alone. These are not common services offered by resurfacing companies. We are happy to be able to use these features as they will enhance the beauty of your outdoor space and be part of ensuring it is stunning and brings a great look to your entire landscape.
Our services are available to all residents and businesses in the city. No matter how small or big, the job is, we can handle it. Our experts will meet your needs and deliver outstanding results by taking notes of the information you share and assessing your space to provide a free quote.
Below is our list of additional services: