Pool Deck Resurfacing for Lantana Residents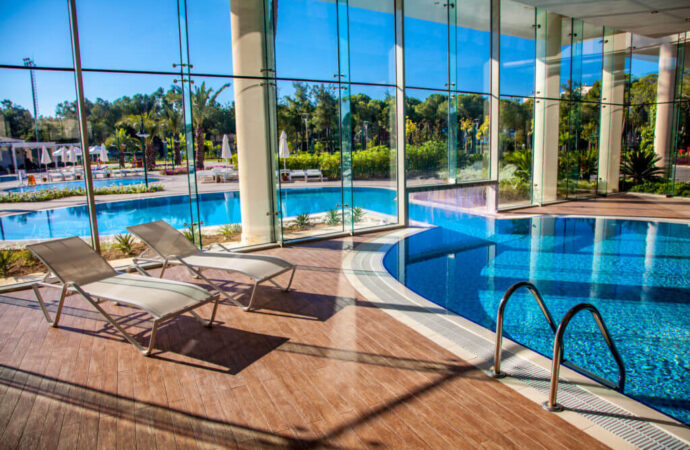 At SoFlo Pool Decks and Pavers of Delray Beach, we love working with Lantana residents so that their pool areas are gorgeous and long-lasting. In case you have projects such as pool deck resurfacing, pool remodeling, or maybe pool lighting, we are here to take care of them. As a company that has been in the business for over 20 years, you can expect us to provide top-quality services, especially for pool repairs or similar functional and maintenance services. As a result, you can have your pool area looking stunning while performing properly on your commercial or residential property.
Pool acid wash is one of our top services in the city due to how algae and grime build up in all properties. Therefore, you can count on us to get the perfect chemical mix and have experts brush and scrub your walls so that the pool is restored to normal without damaging the finish too much. We are confident about our skills and services. Hence, you can expect the best and rest assured with our contractors as they focus on your best interests before, during, and after the service is done.
For other services, you only need to call or email us. As long as you contact our staff, they will be there for you and ensure you are beyond satisfied. Feel free to work with the team in your residential or commercial pool, especially for projects where your budget matters the most.
You need to hire reliable professionals in Lantana who are able to handle all of the tasks you have for your pool and pool deck if you want to have a long-lasting and durable result that will also be stunning in this process. Reliable contractors will ensure that the final result is exactly what you want and need and that you won't have to spend more resources nor won't require you to go back over it again. Slippery surfaces or cracked areas can be hazardous to your health and the structure, so there's a lot involved in handling anything related to your pool. At SoFlo Pool Decks and Pavers of Delray Beach, we can provide all services related to your pool deck repair, remodeling, or resurfacing and ensure you get the desired results that won't cost you the most in the long run.
We only use high-quality materials which are affordable for our customers as we get them from our partners, and we focus on offering them to every single one of our clients, so they are able to finance their projects. This is so that you get the best quality results as well. Our contractors are highly skilled and knowledgeable about the best ways to use the materials and how to make them work.
Only qualified contractors should be handled this, and ours have at least five years of experience in pool decks and related work, including repairs, remodeling, installations, coping, and more. Our approach is different from other professionals in the region. We have a range of options that can help you solve your problem and bring new elements to the entire surface and pool area.
We know that Lantana residents would be most interested in services related to remodeling and repairs. Many of them found that their needs were not what they anticipated or thought they were more than enough to handle their current needs and projects.
Sometimes it is not about the entire project but finding the right service to solve the problem. Resurfacing your pool deck with the highest quality materials can help you save both time and money. This will result in a satisfying and unique outcome that doesn't require you to redesign the whole space or use more components than you can afford.
We are able to offer these services not because we want more clients. Our team is highly skilled and capable of delivering every solution on the list, and we have worked hard to include more members as we continuously expand our list and the locations we serve as well. We will deliver the best results for you to have a long-lasting, beautiful pool deck.
We Begin with Resurfacing & Go Beyond
Our company is one of the few to offer pool lighting in the area, besides the regular resurfacing service most homeowners are trying to access. We offer regular surfacing, coating, and other services. You can take a look at the list or ask our team if they are able to handle any other requests.
This is possible because we have great professionals that make it possible for us to collaborate with you to design a unique and beautiful pool.
We will make every effort to ensure your landscape is beautiful with the perfect lighting for your pool and all other services you may need in this process.
Below is our list of additional services: