Pool Deck Restoration Services for Delray Beach Residents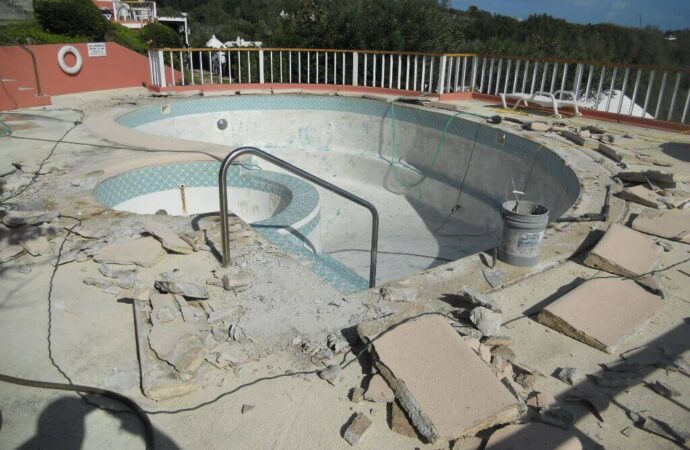 Owning a pool comes with lots of services to consider for the future. Maintenance, cleaning, and your regular repairs will be part of them. But whenever you have an old pool deck or some areas of it aren't in their best condition, specific services such as pool deck restoration are needed. SoFlo Pool Decks and Pavers of Delray Beach's team has worked with this service for over 15 years. As a result, we are confident about our skills and experience in getting the perfect result for your pool deck. Unlike other companies, we take on small or large-scale projects so that you don't have to be alone.
Most pool deck restorations are based on large-scale ideas or needs. for instance, pools that are very old or haven't been properly cared for by previous owners. However, you still decided to buy the property or roll with the current pool area. In case this is your current situation, or you require restoration for other reasons, you are welcome to contact us anytime.
As long as you take the first step of reaching out, we will be able to support you through the rest of the process. Our experience and skills, coupled with quality materials and qualified contractors, will guarantee that you have a neat and stunning pool deck once we are done with the process. While we work on your project, we will consider durability and aesthetics equally important.
In case you need us to, we will consider your budget and focus on making the project always affordable. In fact, our team will always add this variable to the plan and how we work with the restoration so that your finances are protected.
Working on Restoring a Pool Deck
---
This project can be considered more of a renovation, but you need to include the repair factor. While renovations are more about changing the style and adding new features, restoring the space is focused on handling the damaged areas and getting them to look good again but prioritizing safety and durability.
Therefore, the plan and project take longer, and several variables are included. In general, we can help you review each step and part so that you are aware of what needs to be done, but for this, we recommend following a process with our team:
Reach out first so that we can answer your questions and clear any doubts.

Schedule an inspection to get a free estimate and draft about how the pool deck restoration will be done.

You can decide whether to work with us after receiving our team's estimate.
The inspection is not mandatory. In other words, you can request an estimate by providing us with the important information: your pool area's size, some photos of your deck, your ideas and vision, and your budget.
In any event, we allow you to make changes and customize the entire process if you decide to work with us. Hence, this isn't something to worry about as prices or the average will be lowered in case it applies.
Every so often, we get requests aimed at working with custom designs and some projects that can be frequently changed. Whenever this occurs, we are open to adapting the budget and working on the price accordingly. Therefore, let us know, and we can ensure you have everything arranged around it.
How Much Can Be Done During Pool Deck Restoration?
---
Anything you want. As mentioned earlier, this is about a renovation but in terms of repairs, bringing the condition back to normal, and achieving excellence. Doing so will allow you to have a space that is stunning. above all, it will be safe and bring more experiences for you and your family or guests to enjoy.
For this reason, we encourage our clients and everyone to be creative about it. As long as you are open to recommendations and advice, we can even provide you with some options that are within a budget and allow you to get a suitable pool deck.
To clarify, you can have your own project and idea in mind. Then you can come to us and have our contractors perform every step so that you get the desired result. But in circumstances when you need some help with the project and how to use all options, we can be there for you.
Among the services or steps you can take around this restoration, you can consider the following:
Pool deck resurfacing so that you have new material and design for the space.

Repair old concrete or previous features so that they perform well and add beauty.

Cleaning all the surfaces and space.

Resealing the pool deck instead of resurfacing. This is doable as long as it isn't in very bad shape.

Adding new features for the pool alone and improving the experience.
Our team at SoFlo Pool Decks and Pavers of Delray Beach will prioritize safety and durability over aesthetics, but unlike other professionals, we won't leave it aside since we consider all elements equally important. Therefore, expect us to find a balance so that your pool deck is perfect.
How to Reach Out for Pool Deck Restoration
---
A call or email will be more than enough. After you have reached out, you can wait for our team's response and all the information you request. In case you are open to the option, we can schedule a visit to your property so that we are able to see the pool deck's condition and plan for a proper restoration based on your needs and preferences.
In other words, you can contact us using any option or our contact form and expect a proper answer. More than contractors, we are advisors and guides in case you have more doubts and questions, and scheduling an inspection to receive your estimate is completely free, especially for this type of project. Hence, we hope this gives you the freedom to work with us.
Below is our list of additional services: