Pool Deck Stamped Concrete Services for Delray Beach Residents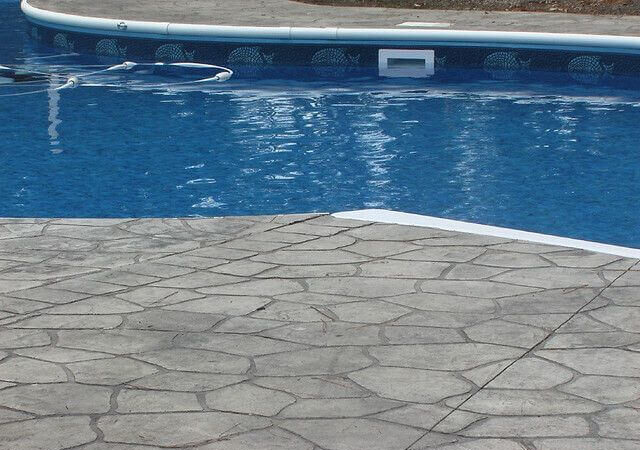 Unlike what people will tell you, pool deck stamped concrete is a good option if you consider affordability, durability, and aesthetics together. Additionally, you don't have to worry about constant repairs or how hard maintenance gets with time, as concrete is always easy to care for and handle as long as the deck is done well and with the right materials. SoFlo Pool Decks and Pavers of Delray Beach has access to the best materials so that your stamped concrete surface is neatly done and in the best condition to offer quality and durability.
We can guarantee clean results and durable surfaces by working around your needs and how the surface can be handled. In case you want a particular texture or color, it can be achieved while resistance and longevity remain the top priority.
We are aware that many people and pool owners don't know about stamped concrete, and if they do, they often associate it with another material. Moreover, they think the surface is reinforced with extra products so that the concrete doesn't remain as the main look. Due to these circumstances, we always provide some information, pros, and cons about the surface and how you can work with this type of material so that you know, your decision is not wrong.
In other words, our contractors will provide information about stamped concrete and how it can benefit you to choose it over other materials. As long as you want the details, we will include them in our support and assistance, but if you are aware and familiar with them, we can work on your project immediately.
Why You Should Choose Stamped Concrete for Pool Decks
---
As a material that has grown in popularity, you will realize that most residential and commercial pools have it in the area. Many factors influence this decision, and we need to list them for you:
It is cheaper than brick pavers or options such as travertine and eurotile. Therefore, people are inclined to its use so that they can save money and time in the short and long run.

You get a wide variety of colors and patterns as long as you get the right people for the service. Unlike what you may think, not all companies work with the same products and brands, leading to variations in the stamped concrete you can get.

Although it cracks and suffers damage, repairs, and maintenance can be easily handled too. Moreover, they are cheaper to deal with as long as you don't delay them whenever they are needed.

You can achieve multiple looks: natural stone, bricks, smooth surfaces, textures, and more.
In addition to all the benefits, you can expect to have stamped concrete in place for over a decade. It shouldn't be necessary to resurface or replace the surface anytime soon. For fear of cracks and leaks, some people end up choosing a different material or go for a major problem, but this is not a regular occurrence, unlike what others will make you believe.
However, the material does have its cons. First, it requires resealing every 4 to 7 years. Second, applying an extra mix of waterproofing chemicals is required. Finally, moisture can be an issue if you let it be for a few extra weeks in terms of maintenance.
Can You Stamp Concrete Your Pool Deck and Make it Viable?
---
Absolutely. As long as quality materials are used, you won't have to worry about how the concrete will perform. Additionally, working with our team means benefits such as proper construction and not worrying about how difficult maintenance can be.
In case our clients want to opt for stamped concrete, we suggest considering those factors:
You shouldn't delay repairing cracks or your pool's regular maintenance. Damage seems or looks difficult to handle when you let it sit and go for too long. Therefore, ensure to fill cracks and deal with discoloration not long after they appear.

Aesthetics can be customized by the right professionals so that you don't have to worry about sacrificing colors and finish. In other words, you must focus on working with qualified people while carefully considering the style and design you want.

Think about short- and long-term investment so that you know your pool deck will be on point anytime.
When it comes to waterproofing and other benefits not included, adding the mix or component to get the desired benefit isn't expensive nor difficult. Hence, you don't have to give them up to choose stamped concrete or opt for another material.
At SoFlo Pool Decks and Pavers of Delray Beach, we would love to work on your projects so that you can have a viable pool deck for your space. Unlike other contractors, we will worry about finding a proper balance and having every element on point. As a result, you won't have to worry about quality or any other aspect while owning this type of deck.
Our Team Is Here for Your Stamped Concrete Pool Deck
---
Our contractors are always available to work around your needs and ensure you get the desired pool deck. Moreover, we aren't simple contractors who will only be there to provide the service. We will focus on giving you advice and recommendations too. Therefore, any questions and doubts can be answered and cleared respectively with our team.
Phone numbers, emails, and our contact form are available all year round for you to request the service and work with us on your stamped concrete pool deck project. In essence, we are here for any issue and custom request you have.
Feel free to get in touch and even schedule a visit and inspection so that our team can get there and assess the pool area. Then, we will provide an estimate so that you can consider the average price or negotiate some changes and parts of the project with us.
Below is our list of additional services: