Cool Deck (Kool Decking) Services for Delray Beach Residents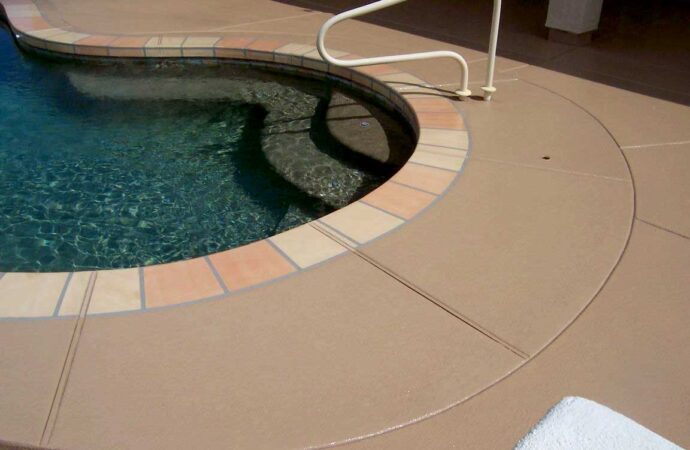 For your pool area, kool decking or a cool deck can be the best option as it is a non-slippery surface and everything but porous. As a result of these characteristics, you have a pool deck that can be safe and looks stunning simultaneously. The key to ensuring you get the desired result with the material is working with the right professionals to focus on top quality with the materials and installation provided. SoFlo Pool Decks and Pavers of Delray Beach is one of the top businesses in the area that provides full support and planning for your pool deck.
We are here to ensure you can understand what this option entails and how you can work with the entire resurfacing in your pool area. As much as we like brick pavers and other materials, just like our clients and you, we always recommend considering this decking option as it will bring benefits within a fair budget. The coat, to begin with, will protect your deck properly and ensure that the elements don't damage it that easily. Additionally, you can get stunning designs knowing how to work with the materials and focusing on the style you want to get with the colors offered.
Our goal is to get you a durable, beautiful, and low-cost pool deck so that you can maintain it easily as well and enjoy it for a long time. Hence, you want to contact our team and give us a chance to review the different options and explain how kool decking works in your space.
When you're working on your pool deck, you always have to think about how slippery and hot it will be if you don't worry about having a good surface that will provide all the benefits to prevent both of these issues and more. If you are unsure or don't know what surface or type of material would be the best, leave the task to professionals who can help through the entire process and even install the perfect option. SoFlo Pool Decks and Pavers of Delray Beach recommends cool decking (also called kool decking) since this option can be customized to achieve unique looks and specific goals, such as creating a non-slippery and dry surface that's perfect for your pool and will help to prevent any accidents and falls while using the pool area. 
This coating has been provided by our team for over a decade to residents and business owners. It is safe for pools, and it's very affordable if your budget is tight, or maybe you just like the designs and styles it can offer when you have our experts working on its installation and use.
The cool coating can be used on pool decks of any size. If you are looking to make a decision, you will need to find out more about it, and our job begins by providing you with more information before you jump to this alternative.
We want you to be satisfied with the choice of coating for your space. It is not worth spending more money or time on products that don't meet your needs or that you don't like over others that you can afford as well.
Before we go into details about kool decking and why it's such a popular choice in the city and surrounding areas, we want you to know that it can be used in many ways. It is not the only choice for pool deck resurfacing, but it may end up being the most affordable one, together with the spray deck. Ask for details or have one of our residential or commercial pool deck resurfacing contractors help you with a larger job or give you all the information that you need.
Why Kool Decking Is a Popular Option for Resurfacing
There are many options when it comes to designing an outdoor space or a pool deck surface. Unfortunately, not all options meet your requirements, and many of them can end up being expensive.
Pool deck owners want a cost-effective solution that is safe, beautiful, long-lasting, and affordable. There are many variables and factors to consider. We want you to be satisfied with your decision. It can be hard to choose the right option, and this is where we will begin when you start showing interest in this option.
There are two primary priorities when choosing a surface or coating to cover pool decks: one that is non-slippery and one that will not be affected by heat and weather conditions to the point of heating it and making people unable to walk on it during the day.
Cool deck is the perfect surface for homeowners and business property owners, as it fulfills all of their needs, including cost, durability, and aesthetics.
You can install kool decking, and it will last at least ten years with very little maintenance. It also requires very few repairs, if not none, in many cases. It will be very easy to maintain a cool surface. This is evident in both the name and the final result that you will see after installation.
The versatility of this decking means that it can be used for any purpose as well. People choose to resurface their spaces or increase the size of their spaces because they like how it looks. You can take a look at the decking and decide if you are impressed by the aesthetics.
Also, contrary to popular belief, it can be used to resurface an existing pool deck or other surfaces. It can be used on existing or new concrete or as the main pool surface if the pool is brand new. In short, you can either consider it as your first-time surface or the next one you want and need for your property and space outdoors.
You can use overlays and cool decking to create the entire surface. This type of surfacing can be used from the start as long as qualified experts are helping you in the process and ensuring its quality and durability. Our team is here for it, and we will make sure you get the desired result.
It doesn't matter how old or brand new your pool deck is. It can still look beautiful, safe, and well-maintained. We can also help with the design of your outdoor space.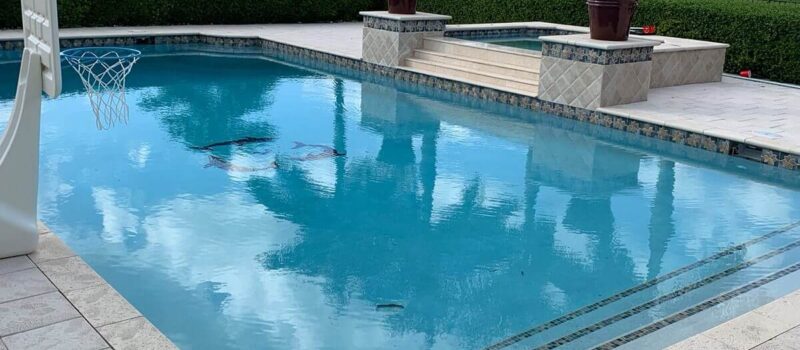 You can create any style or design as long as the surface is clean and well-prepared. We need to assess the damage and ensure that the new coating does not pose a threat to your outdoor space.
SoFlo Pool Decks and Pavers of Delray Beach can help you achieve a satisfying result. This cool deck option allows us to resurface your entire deck by hiring professionals like us who understand how everything works and what is best for you.
How Much Will Kool Decking Cost You?
Kool decking is affordable, and you don't need to be concerned about its cost in most cases. Prices range from $3 to $5 for a square foot, and the cost of the entire project will depend on how big your pool deck is, how labor-intensive it is to install or if there are any additional repairs and needs listed to it.
The cleaning and repairs involved in resurfacing can make it more expensive. If you go for our service and the cool deck option, you will see a beautiful result and a lasting finish.
We are happy to help you choose from any color. The cost per square foot will not rise if you choose a specific color, as all have the same prices and are based on a standard.
We will gladly provide a quote based on the size of your pool deck and all variables that our team will go over with you.
Below is our list of additional services: