Residential Pool Deck Resurfacing Services for Delray Beach Homes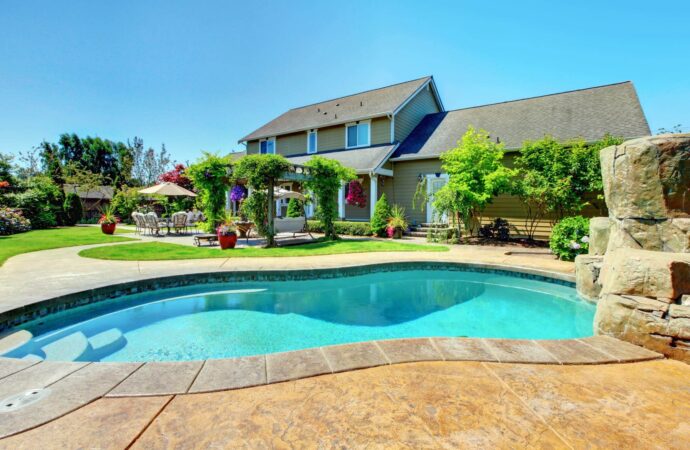 Handling pool deck projects can be a hassle and issue when you don't have the right contractors and materials. Therefore, you want to take your time finding reliable professionals for residential pool deck resurfacing. At SoFlo Pool Decks and Pavers of Delray Beach, we have been working with all residents for over two decades. Hence, you can expect us to provide full support and ensure you have a pool deck you can enjoy and be safe in. as long as you rely on us for the whole process and are open to some recommendations, we will be more than happy to guide you respectively so that you can relax and forget about all the stress.
Resurfacing your space can take a lot of work due to the different steps and materials involved. However, this can be solved by having the right people. Therefore, don't worry much about it, as we focus on how you can get the project done and ensure you have the best materials. As a company that has been operating for over two decades, we are able to adapt the project to your preferences, budget, and needs. As a result, you will have a project that is exactly the way you want and can afford it.
For this resurfacing process, you have multiple options. From eurotile to stamped concrete, you are able to work with us and choose any of the materials available. In case you have a special request, we can help you find the product and get the resurfacing done.
Every single homeowner in Delray Beach isn't likely to consider residential pool deck resurfacing until their pool deck starts looking different or cracked, or maybe once they notice the damage in the entire area when they will be ready to work out a solution to prevent it from damaging even more. However, this isn't a service that you should wait to work with, and when you start looking for your professionals, you will want to find those who are truly qualified for the task. At SoFlo Pool Decks and Pavers of Delray Beach, we are here to help. 
We provide the best service and will ensure you are satisfied with the final results. However, before we dive into the project, we will give information to help you understand why you need to care about the elements of your pool and why resurfacing is the right choice for repairs, remodeling, or just enhancing your deck's beauty as we know some homeowners reach out to us in order to bring a new design and achieve specific results.
Let's suppose you are looking for the best way to obtain this service or are trying to figure out why you may need it so you can establish a goal and work around it. Well, in most cases, you need to remember that pool deck resurfacing does not only include repairing cracked concrete or repairing damaged areas in the space. It also covers the entire area of your pool deck and what you need to do in order to achieve a more stunning surface for the entire space.
Residents in the area have contacted us to have their decks resurfaced because they were tired of the current designs at the time and wanted to bring something new. When working on enhancing and changing the design, they can attract new residents to their space, let them have fun with it, or simply change the look to suit their tastes.
The pool is an essential part of any space, but it's just one thing. A deck will be a great addition to your space and allow you to have a relaxing experience. If you don't have one, you'll usually have some problems dealing with how you spend time in your pool area overall.
How can you determine if resurfacing is right for you before you hire our team to work on your surface and bring a new look to your outdoor living space and specific feature?
Our job as professionals is to inform you of any problems or issues with your pool deck. Look out for cracks and damaged areas to determine if repairs are necessary. Maybe your concrete surface is wearing out and causing more problems; maybe, you just want to change the design, and we will give you several options around your taste to do so.
We can help you decide what repairs are possible and how to go about it. We will provide recommendations and walk you through the process if you hire our service.
Don't assume that our job ends when we finish the job and resurfacing process. We are here to answer any questions or provide guidance throughout the process and ensure you're satisfied before, during, and after we take on this task.
Therefore, remember we're here to bring you all guidance and support needed with the choices you have to make and work around the project in the planning and execution phases equally.
Will You Have Few Options When Choosing Resurfacing Styles?
Not at all. You have many choices when it comes to the design and style of your pool deck and the materials available to achieve specific styles that will suit your taste and bring a new feel to the space. 
Your property's design and your pool area will be determined by what you are looking for and how much time we have to work with you. There are many choices, so take the time to look at them all and choose what you want for your resurfacing.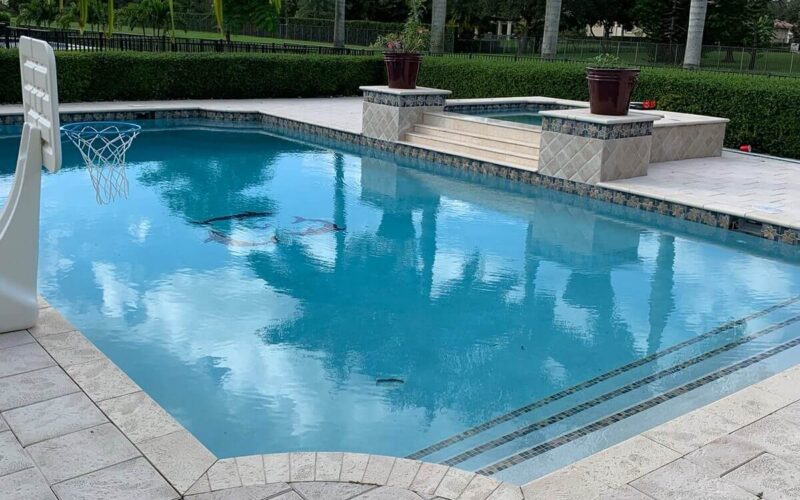 Pool deck resurfacing is a method of repairing and applying a concrete overlay to existing surfaces. It can also be used to create a durable and long-lasting new surface that doesn't need to be made of concrete alone. You can also choose to care about the style and design of your pool or deck based on the material you choose for the project.
You can customize the overlay in many different ways. You will see examples and photos of each option so you can get an idea of how they will look once the overlay is applied with our service and our professional assistance. All these examples will be provided by our team based on your space and the options you have available for it.
Concrete is not always the only material that we use. There are exceptions and why it is a favorite in the entire industry. In other words, it is the most basic but not the perfect option for every case. 
SoFlo Pool Decks and Pavers of Delray Beach contractors are here to offer all options. We will introduce you to different materials and types of resurfacing and show you how each one will potentially look in your outdoor space.
There are many options available. These will be discussed as you work in your personal space or look at any designs that might interest you.
Pool Deck Resurfacing for Homeowners
Our team is happy to help you regardless of how small or large your area may be. It doesn't matter how big or small your pool deck is or if you need us in a specific location in Delray Beach and nearby areas; we will help you to achieve the best results.
Don't hesitate to contact us if you have any questions regarding your deck. We'll gladly guide you through the entire process, making sure that you are satisfied with your decision and informed throughout.
Get a free quote by contacting us. We are happy to help you with any questions or concerns regarding your residential project.
Below is our list of additional services: