Pool Equipment Upgrade Services for Delray Beach Residents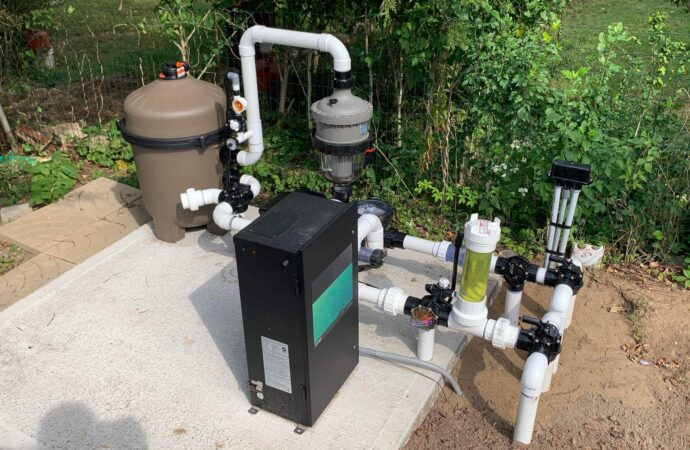 As much as people like working on their aesthetics and features, some additions should be made while considering functionality and comfort. Therefore, you want to consider any pool equipment upgrades that can improve experience and performance. At SoFlo Pool Decks and Pavers of Delray Beach, we can support and assist with any change you want to make. Single pumps, new connections, automation systems, and more. Unlike other companies, we have every upgrade available so that you get the exact result you expect or experiment with more options and focus on improving your pool.
Most of our clients have focused on single or multifunctional pumps in the state. As a result, their pools perform quite well in any condition, but they lack comfort and other improvements. For instance, an automation system can allow you to control the pumps and other parts remotely. Hence, you could save time and energy by turning off your features and working around proper maintenance.
As a team and contractors, we aim to make sure you know about all the alternatives. Moreover, we want to offer the solution and focus on how you can have each upgrade without problems and for an affordable price.
We know that for fear of poor services and results, most people opt for simple upgrades. As useful as they are, and this isn't actually wrong, you can get more if you work with more options that will lead to a better experience.
What Kind of Pool Equipment Upgrades Are Possible?
---
After our rambling about upgrades and the different options, the question is: what upgrades are doable and possible in the space?
The list is long as it includes upgrades considering needs, performance, maintenance, comfort, and aesthetics. Therefore, reviewing the different options takes time and you should choose them based on your need. Then you can focus on what would enhance your pool's aesthetics unless you have plans and want to follow another idea.
In our company, we offer the essentials and expand our services and reach with time. As a result, you can find a proper upgrade and come to us for a specific request as we can adapt to it and guarantee the perfect outcome to enhance and improve your pool.
With this in mind, the options available include the following:
We can install saltwater systems, so your pumps and pool perform better overall.

Automatic cleaners to reduce time in maintenance and regular services.

Automation systems to turn your pumps or other connections and features on and off.

UV and ozone systems for more protection and performance.

Your outlets and entire electrical and power systems can be replaced and upgraded.

All small details, such as cables and connections, will be upgraded so that you have a safe and reliable system.

Controls and mechanical elements, including brackets, bracelets holding items, and other features.

New pumps, along with hoses and outlets, if needed.

Any additional pool equipment upgrade related to your landscaping features and elements can be considered within this service.
How Much Will Your Pool Equipment Upgrade Cost?
---
Prices will vary depending on the upgrades you request and the job's complexity. Some upgrades change and have variations based on the type of pool and size. Therefore, there is a long list of considerations alone to be able to provide an accurate estimate of your pool equipment.
On average, upgrades can go from $200 to $5.000. considering this is a massive range, it is important to outline them based on the type of project we are handling for you. Hence, we need to know about your project and pool so that our contractors can go into detail with the estimate and what you get from the process.
A good example of price is pool bubblers, as water features that also improve your water circulation. Unlike other water features, they can be installed for about $400 to $1.000. However, new systems and pumps can start at $1.350 and go to $7.000.
In case you are considering contacting us to have a custom estimate and work on your pool equipment upgrades, these are the factors we will include during the process so that you understand our outline better:
The specific upgrade you are requesting.

Your pool's size and type.

Any needs and additional elements that will make the project possible.

Your budget for the project, as pumps, bubblers, systems, and products overall, vary in price and can be adapted.

The complexity of the project.
Feel free to request the inspection and estimate for free. As long as you are open to scheduling in advance, we won't mind being there for you.
Reach Out & We Handle the Rest
---
Unlike other companies in the area, we don't want to be your regular contractors. Instead, we aim for guidance and assistance, even when you may not hire our team.
We know that most people don't know everything or only know a little about upgrades. As a result, it is hard to consider the different options that will make the pool better and more functional. Consequently, decisions and choices are more aimed at what is popular or what other "professionals" recommend.
If we provide advice and guidance, we will always outline and explain why some upgrades are better or what you need. To clarify, our contractors will do this as long as you are open to the option, but you can tell us to stop, and in any event, you have the first and last word.
Count on our team; we will happily work around you and your needs.
To sum up, you are what matters, and your best interests are in consideration and at the top of the list every time you rely on the team.
Below is our list of additional services: