Pool Deck Repair Services for Delray Beach Residents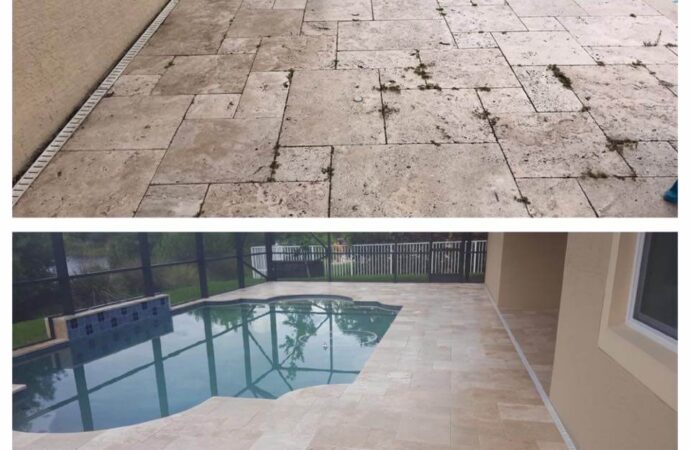 Pool deck repairs can be avoided if the decks have been properly installed and the materials are high-quality. Although it won't be a solution that lasts a lifetime, it will certainly reduce the number of repairs you need and even the amount of maintenance you have to provide to your pool deck. Numerous Delray Beach pool owners have had problems with their decks over the years. This is a sign that their pool decks were not well-built or maintenance has been poorly done. So they need to find contractors who can fix the deck and make sure it lasts. Our team has been working on pool deck repairs for over 15 years as our company SoFlo Pool Decks and Pavers of Delray Beach, wants to and can offer all the solutions you need. 
Our team has provided high-quality services and results to ensure that your outdoor space remains safe and beautiful for over a decade. We're happy to be the #1 option for residential and commercial property owners in the city and surrounding areas.
We can help you determine the right size for your pool and deck based on your needs and all the repairs that need to be performed to ensure their durability and longevity once again. We will immediately repair any damage to your pool deck caused by outside sources and ensure that no further problems occur.
To ensure a durable pool deck, you must be cautious with repairs. We use only the best materials. We also want you to remember that a pool can be an investment. It shouldn't be an ongoing expense. You want to be in control of your space for many years and not have to worry about every little detail.
We are available to fix any cracks or other damage to your pool deck. No matter how large or small the job is, we can help you fix it as soon as possible. You won't need to worry about any other things because the deck repairs are so safe. We will also be there to assist you in providing guidance and knowledge regarding your space.
Dealing with Pool Deck Repairs Isn't a Game
It all depends on how well the pool and deck were maintained and how experienced you are in working with repairs. There are many ways to fix different kinds of damage as well, which is why professionals will determine the final outcome and the best way to proceed to guarantee the desired results.
We will inspect your pool for superficial damage, such as cracks and faded areas due to use over time. Inspecting the entire deck and space, including the pool and any other areas that may be connected to it, is vital. The way the pool filters water can cause cracks or problems. It is crucial to assess the damage and decide if action is necessary.
We know that most pool owners are worried about their finances and how much they can afford to repair their pool decks. So don't be surprised if we notify you before taking action, as we care about your budget and if you can work with this service or not.
SoFlo Pool Decks and Pavers of Delray Beach aims to offer affordable options. We won't make you pay for all the repairs immediately nor charge you a fortune for our services. We want you to avoid further problems and serious consequences. We encourage clients to allow us to assess their pool decks and then give a quote that is tailored to their budget.
We will give you all the information needed to determine and fix your pool's main issues and damages. This will enable you to understand the reasons behind our chosen approach and what other options may be available.
We will need information about the deck's layout, structure, function, and other relevant details to provide a quote or visit.
We Can Help You with All Your Repairs
Discoloration and cracks on the surface are two of the most common problems that every expert should be able to handle, but how skilled they are at them is what tends to be used in guaranteeing durability and longevity. We can deal with these issues quickly and easily. What you need to know is that coloration depends on the surface material chosen and whether it has been given a low-quality or long-lasting finish.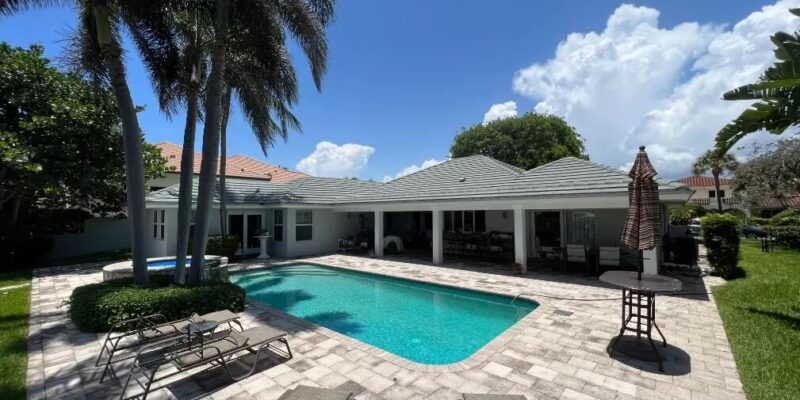 Different materials can be used to fix cracks. Brick pavers, for example, can be repaired by simply replacing individual pavers. Each paver is small, so it is best to take the damaged one out and replace it with a brand-new one. Although it takes only a few minutes, it is essential to not damage other parts. You must also ensure that the paver fits properly and stays in place for a minimum of ten years.
You can repair tiles and other materials in the same way, but concrete and some other materials require that we either resurface the deck or fill the cracks with more material.
When repairing cracks, it is important to ensure that no water seeps through them. Water can seep through cracks and cause damage to concrete, pavers, tiles, and other surfaces.
Sometimes, a new coating can be enough to fix discoloration. We will either resurface or refinish the pool deck depending on its size and color. You can also choose to use another material depending on your goals.
We can also help with spalling, dents, and other problems. Contact us for pool deck repairs. We will evaluate your space, give you a quote and let you know the estimated cost.
Keep in mind that all projects need to be handled based on each person's needs and preferences. We cannot give you an estimate based on other people's decks and pools. Therefore, allow us to assess the damage or just give us some information and details so we can at least give you a brief overview of what needs to be done and how much it could cost.
Below is our list of additional services: