Pool Deck Resealing Services for Delray Beach Residents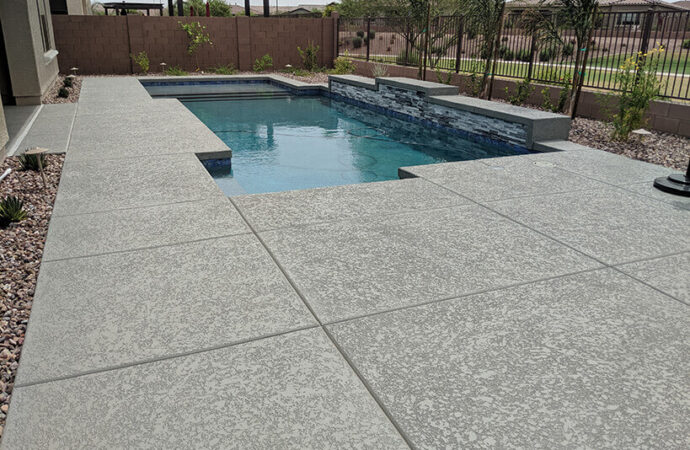 Part of keeping your pool deck stunning and safe is resealing everything it is needed and providing frequent maintenance around it. While contractors and professionals will often recommend aesthetical projects so that you enhance their looks, you need pool deck resealing as part of your usual processes. Therefore, focus on finding qualified experts who can provide clean results using materials and tools. At SoFlo Pool Decks and Pavers of Delray Beach, we have been working with all types of sealers for over two decades. As a result, you can choose from the different options we have available.
Depending on how you care for your deck, resealing it won't be required as often. However, considerations such as the type of pool, the elements, and how the sealing is done will make time between reseals vary. In case you work with us, we will always be aiming for quality and durability. Hence, you don't have to worry about sacrificing strength for aesthetics and vice versa.
Additionally, we aim to have the pool deck neatly done so that you don't have to constantly spend time and resources on it when there are different options to keep durability and longevity. As long as you take the first step, we can give you some options and work around your needs and projects. Unlike other companies, we are not here to only work on what is more expensive to make you spend more. Instead, we care about what you get in every aspect: budget, quality, aesthetics, and more.
Why Is Pool Deck Resealing Always Needed?
---
Resealing your pool deck has multiple benefits. Starting with how cracks, discoloration, and other signs of damage can be dealt with with the right sealer. On the other hand, you get to restore the aesthetics and material of your surface due to how you can apply the sealer or material. As a result, you have a protected coating that prevents extra damage from the elements, water, UV rays, and more.
This service is required to prevent mold and mildew too. In case you have some problems with how cracks keep appearing or specific damage causing problems, we are here to provide information about how they can be dealt with.
Additionally, pool decks are not often waterproof. Although some materials can add the feature and benefits, decks alone won't be able to stand the general water. As a result, you have to include additives and have some mixes to ensure durability from this aspect.
The sealer you choose can have waterproof properties if it is a water-based option. A solvent-based sealer is viable too, but some regulations and limitations apply.
Finally, your pool area's aesthetics matter, and we know they are equally important as functionality for you. Therefore, we do our best to keep every detail in mind and ensure you have a good balance in every part of the process and the final result.
What Types of Pool Deck Sealants Are Available?
---
Out of all the options, we always recommend acrylic and penetrating sealers. In case you are worried about the nonporous and waterproofing benefits, it is possible to find products within those types that offer them. Moreover, we ensure the products and quality include the benefits so that you don't have to worry about simple yet essential aspects.
Because of being water-based, acrylic sealers are the top option in most cases. They help repel water, and moisture won't be an issue for your space. Hence, you can easily use the pool all day and have different types of activities without worrying about its durability and condition.
In addition to waterproofing, it is possible to enhance the surface's look thanks to the glossy sheen you get. As long as the sealant is applied correctly, there is no need to worry about resurfacing the entire space either, which saves lots of time and effort.
On the other hand, the penetrating sealer is more about the different weather conditions. Considering Florida's weather and natural occurrences, it is a good alternative to prevent the elements from damaging your pool deck. Unlike acrylic, it doesn't provide the sheen and glossy film, which could be better in case you want to keep your surface looking the same.
This is why it is more up to your choice in terms of looks and appearance. Therefore, we recommend reviewing options by going over different factors:
Quality and durability.

The price of resealing.

Aesthetics.
Other options are available, such as neutral-curing silicone sealants and other water-based sealers. Hence, don't stick to one if this is not what you wish for.
Is It Costly to Reseal a Pool Deck?
---
Not at all. Although it is done more often than resurfacing or other massive services, it won't hurt your finances. As long as you take the time to find proper professionals and ensure they use high-quality products, the expenses won't be much.
At SoFlo Pool Decks and Pavers of Delray Beach, we truly care about every aspect of the projects. Unlike other companies, we consider factors such as budget and durability to be at the top, even when we know aesthetics are equally important to you. Doing so will open the option to work around a balance and ensure you don't have to constantly reseal and worry about prices.
On average, pool deck resealing costs around $0.50 to $4.12. this already includes the products, materials, and labor from our professionals. In case you want to opt for this, we recommend focusing on scheduling a visit with our team. This will allow us to inspect the pool deck and let you know the price depending on your extra services or requirements.
To sum up, we are a company that worries about you and what must be done. Henceforth, we are always thinking about getting a balance so that you don't sacrifice one benefit for another. Rely on us and contact us via email or phone, or use our contact form to get all the information.
Below is our list of additional services: