Pool Deck Resurfacing for Boynton Beach Residents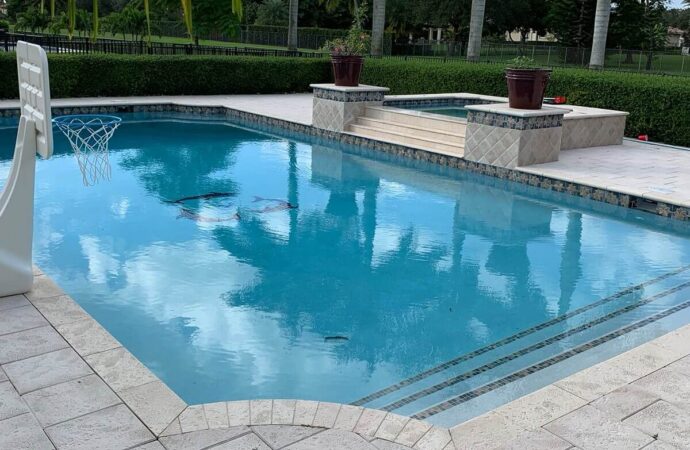 Boynton Beach is one of those stunning places where you want to spend the rest of your life. With a nice property and pool area, this thought and wish just intensified more. In case you are working around the later space in your property, or you identify yourself as a pool owner, you will want to know how to handle projects and services, especially to maintain your pool safe. At SoFlo Pool Decks and Pavers of Delray Beach, we have been working in the pool industry for over 18 years. Therefore, you can expect our team to be qualified and provide services around pool deck resurfacing and more.
We have focused our services on pool deck resurfacing for a while. As a result, we have options such as euro tile, stamped concrete, and brick pavers—to mention a few. But as a company that worries about having solutions and being there for you, it is possible to find more services. Moreover, we offer support and advice for any of your projects so that you can have a unique and stunning area on your property. Unlike other companies, we will do our best to ensure this is possible and guaranteed.
Feel free to contact us for pool lighting, pool deck repairs, and more. As long as you allow us to, our contractors always provide options and multiple solutions for a single service so that you can have more than the usual expensive or cheap alternatives. Additionally, you can access several at once, have our company work on your preferences, and accommodate your needs.
Finding pool deck resurfacing contractors that are truly qualified if you live in Boynton Beach is not easy. The reason? It simple. As more people joy the excitement of having pools and the entire area in their outdoor spaces, they are trying to access experts that can help them with their projects, but the issue lies in how many people are pretending to be professionals yet are far from it. Many people don't value quality and just want to get more customers as well, which brings another problem to the equation. Luckily for you, our team at SoFlo Pool Decks and Pavers of Delray Beach can help and provide great services. Your outdoor space will look great and last for over a decade without difficulties as we make sure to bring our qualified professionals to the game.
Our goal is to help you select the right service, products, and styles based on your needs and preferences. We want you to be satisfied with your choices, both in the short- and long term. A pool deck should be durable, and for it, we need to provide excellent results for the next ten or more years, so you don't have to spend more time and resources on all this either.
We will help you create a plan before you begin your project, regardless of the service you request and what you need our help with. We want you to be satisfied with everything and get the most out of your investment. We will ensure that you understand everything about the pool deck and how it will last, or just bring more solutions as needed.
We have been serving all Boynton Beach homeowners and businesses for over 15 years. No matter how big or small your property is, we are happy to show you the results and be the experts you need for your project and more.
Contact us for pool deck surfacing services or more specific requests such as pool lighting, pool deck repairs, and diamond brite installation. We can also help with any other needs as listed in our services.
Worry About Your Deck & You Will Have a Stunning Space
Although the pool alone is a feature you need to worry about, the surrounding area and surface are just as crucial. It is not enough to have the pool alone when your deck plays an important role in all this. You don't need to be concerned about them every day. However, it is important that you take care of your pool and make changes or provide regular maintenance. This will help prevent cracks or damage in specific areas of the pool and provide safety for all who use it.
Your pool deck should be non-slippery and safe. Resurfacing is not just about repairing cracks and damage but also creating a new surface that meets your needs and brings a new design you may like in all this.
We can help with the aesthetics and offer all the benefits of focusing attention on this feature at your home or business.
Below is our list of additional services: