FREE Pool Deck Resurfacing Quote for Delray Beach Residents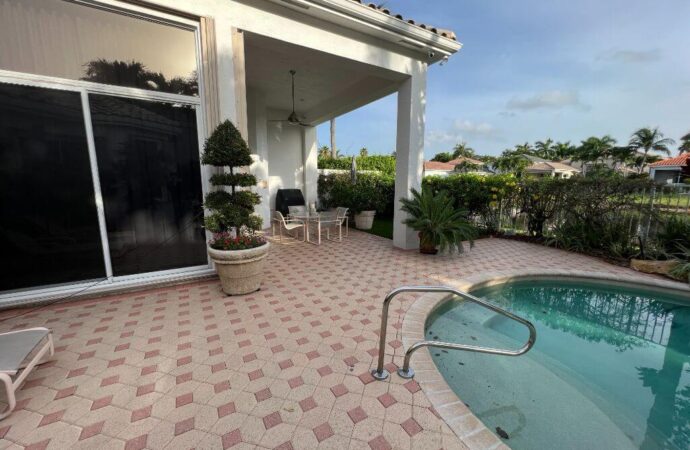 Reaching our contractors at SoFlo Pool Decks and Pavers of Delray Beach is simple as we make the process as smooth as possible. You can call or email us, or feel free to use our contact form so that we can get back to you in no time for services such as pool deck resurfacing. To clarify, you don't need to request a service right away. Therefore, you can ask any questions, make sure our team clears your doubts, and focus on how we can provide the solutions you're looking for. In case you need guidance and recommendations, this is also doable for our team.
We have been working in the pool industry for over 17 years, and coupled with our contractors' experience and skills. You won't have to worry about how your projects are done. Instead, you can lie down and expect us to deal with everything neatly. This applies to every service and solution available in our company. In addition to them, you can request free inspections and estimates to know how much your project will cost and make your decision in working with us.
You don't have to feel pressured at any moment. Unlike other companies and contractors in Delray Beach, we are invested in you and your comfort. Hence, you can take your time with things and let us know how we can help or how you want us to do so. Despite how you may see us as a company, we are here to accommodate your needs, be supporters, and ensure you are comfortable with every detail.
SoFlo Pool Decks & Pavers of Delray Beach is here to help with any kind of pool deck project, including resurfacing, lighting, repairs, and more. We have over 15 years of experience and are always striving to improve our services and deliver the best results for you. We want you to be satisfied with the safety and aesthetics both of the pool deck and the pool. We do our best to make sure you are happy and that you won't have to go back to the project when it should be all about durability and longevity, even before you consider the beauty and aesthetics of the design and result.
Our team is able to provide and promise top results because of the following:
We use top-quality materials to ensure durability and long-term use.

We ensure that all of our employees have the required qualifications and experience in order to handle all aspects and services offered by the company.

Our team will focus on your needs and preferences to get the results you want.

You can save money using the latest materials, which are durable and high-quality, while we also offer them at lower prices.
We are here to help you make your vision a reality. The first step is to call or email us. You can also visit our office in the city to have a chat with the team. We are happy to take over the decision-making and any other changes, but we will not interfere with your decisions and preferences while we navigate the problem and help to visualize what is needed.
Many business and homeowner owners who reach out to us don't have the knowledge or ability to understand their needs enough to know how to approach them. Even if you don't understand the situation, we are here to help, and this includes all the guidance in choosing the service that fits your needs the most.
Our help and role don't begin when we are working on your pool deck. It starts when we can provide you with information, details, or facts that will assist you in making informed decisions.
We don't want you to struggle to make the right choice. Instead, we will help you navigate the entire process. We can help you save money and time in the end and deliver the result you expected and go even further with it.
Your Satisfaction Is What Matters to Us in the Short & Long Run
Our team will design a plan for your pool deck or the entire area. We'll be able to focus on what you want while taking into account all of your preferences, such as colors, textures, and other details. We can provide a plan or deliver a design to you for actual resurfacing or remodeling. You may also need a new surface to replace or enhance with some services.
This will give you a clear picture of the final result and allow you to give your approval before we start working on your deck. 
Access to your deck or surface will allow us to provide you with a more precise quote. This will enable us to understand your project and create a plan that meets your needs, after all.
We want you to be satisfied and happy. There is no need to spend too much on any project. However, if you are not able to let us assess the space immediately, please provide as much information as you can to enable us to give a precise or close estimate.
Below is our list of additional services: