Pool Acid Wash Services for Delray Beach Residents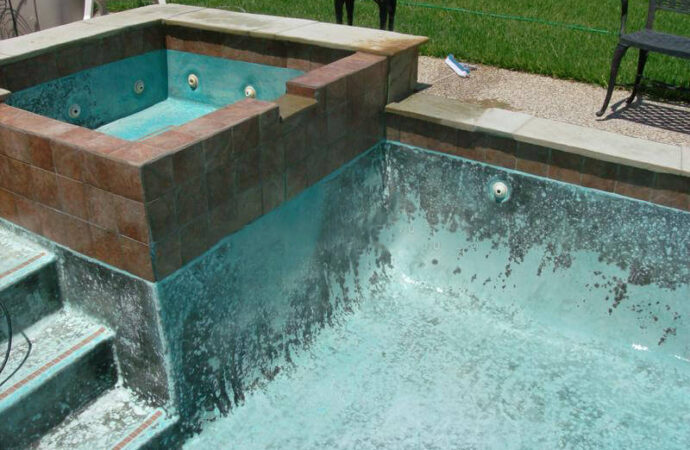 Keeping your pool free of grime, sediment, and algae requires more than common cleaning and maintenance. In fact, you have to perform specific services every so often so that you can have it in good condition and focus on safety and performance. At SoFlo Pool Decks and Pavers of Delray Beach, our contractors know how to perform pool acid wash in the best way possible. Hence, your pool will be neat and clean all year round, and the build-up won't be an issue in your walls and entire pool surface any longer.
However, this acid washing cannot be performed in every pool and shouldn't be done so often. Unlike what most contractors will tell you to close the deal, we will only provide the service once you are confident, and even so, we take the time to inspect the pool. Then we can deliver our support and guarantee a massive change for your space.
Does this mean you must review our inspection before hiring our services? Not really. To clarify, we can always perform it when you hire us so that we know the scope of the work and prepare accordingly. Unless you want a quote in advance, we will work around your needs and be open to providing it without the visit. Therefore, feel free to come to us whenever you want and however suits you best.
In case you have worked with us before and had our team provide pool acid wash, we will know how to work with your space already.
How Does Pool Acid Wash Take Place?
---
Regardless of the pool and if the washing will be performed, the process is similar. What varies is how we have to work with the mix and ensure the chemicals used are perfect for the amount of build-up and your type of pool.
For fear of damage, we are aware that most pool owners delay the service or choose to continuously perform different cleans and processes. However, they are not as effective and it takes a lot more work and time in the long run. For this reason, we recommend considering the algae and sediment, then contact us or reach out so that we can suggest the perfect service in case you don't know what pool acid wash even is.
That being said, this is how our contractors and team will handle the process:
We will inspect it and see the amount of build-up and grime.

Our team will plan the mix and chemicals to be used besides the usual hydrochloric acid.

Then we proceed to drain the pool and wait for it to dry a bit with the sun.

Once done, we spray the mix or chemicals and let it sit for some minutes.

Our cleaners will start brushing and scrubbing to remove all the stains, grime, and sediment from the walls.

Next, we clean and wash all the chemicals, so the pool is in perfect condition.

Our contractors check the condition, even the space, and focus on any issues or details left.

Whenever we give it the green light, we start filling it so that you use your feature again.
 Is Acid Washing Expensive for Pool Owners?
---
This is the best part; it isn't. Since pool acid wash isn't required often either, you don't have to worry about being a recurring expense. The price goes lower if your pool's grime or condition isn't serious either. Therefore, you can perform this washing at the most convenient time and focus on how much you can invest as you see the algae and sediment.
Other variables, such as the contractors you hire and the whole process and pool size, matter as well. We can work around an average at SoFlo Pool Decks and Pavers of Delray Beach. From $200 to $420, you can have our team acid wash your pool accordingly.
In case your pool is larger than 500 square feet, prices and average can go higher depending on how much grime it has built up. What will determine the rate or final price will usually be the amount of work it involves.
For instance, if our cleaners have to brush and scrub more, or if we need to add some extra services like repairs. Occasionally, refinishing the pool can come to play as there is one issue with pool acid wash: it makes the finish wear out due to the chemicals and brushing.
To clarify, this isn't massive damage to your pool, but it does influence its condition as you perform it more often. Moreover, the chemicals used and how people handle the process can damage you more or less your pool.
Under those circumstances, we recommend focusing on getting the service you truly need, but not to the point of having your entire pool green. As long as you allow us to, we can advise you and provide some tips about how often you can acid-wash it based on your needs and budget.
How to Access Acid Washing
---
Call or email our team. Unlike other companies, we are easy to reach out to so that your pool can be treated immediately. In any event, we will be there and guarantee a clean result that will barely damage your pool finishing. Hence, you can contact us anytime and ask for a quote.
In general, you can schedule the inspection or visit and get the free estimate anytime. You don't need to wait for a long time, but if you would rather get it with the information you can provide us, we are open to this option too.
Feel free to work with us and have your pool acid wash done quickly. Our rates will adapt to your budget, and we will deliver nothing but the best as we notably care about you and significantly strive for perfection and proper services. Get in touch with us using our contact form as well.
Below is our list of additional services: