Pool Deck Resurfacing for Pineapple Grove Residents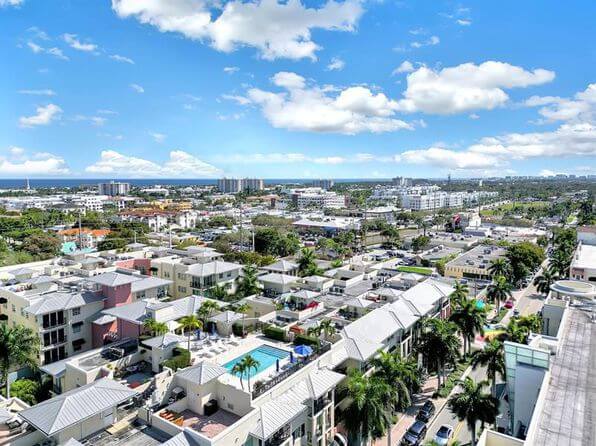 Working around projects that focus on repairs and restoration can be a hassle for some people. As a result, it is simple to mess them up and avoid hiring professionals while being careful. At SoFlo Pool Decks and Pavers of Delray Beach, we can alleviate your worries and problems so that your pool area is stunning and safe again. As long as you take the first step in contacting us, we will be able to provide full pool deck repairs or other services to maintain your space in Pineapple Grove in good condition.
Working with us is a great alternative if you are trying to access support and assistance around decision-making. Unlike other companies, we are not trying to provide a simple or common service but rather focus on how much we can help you. Therefore, expect our specialists and contractors to be there for recommendations and advice beyond the fact of delivering a service.
In case your needs are more around pool deck repairs or pool deck resurfacing, we will require an inspection. Unless you cannot schedule it or don't want our contractors to visit, our staff will proceed to set an appointment so that we can see the deck's condition and work around it. Then we will provide an estimate with the details and costs of every step and part of the repair or project.
In other words, we will take our time in determining or identifying your needs so that you are able to get a fair rate and the right service and attention. You won't have to worry about compromising with us either, as you can take your time to decide whether to work with us or not.
What About Pool Heater Installation & Other Services?
---
Besides your regular repairs, our company offers 15+ other services around aesthetics and functional or required solutions. Therefore, you can expect us to address more than repairs and regular maintenance. In fact, we are proud of how stunning your pool can look, thanks to our experts' help and experience.
Pool heater installation is not an aesthetical service but is quite functional and needed. Unlike what you may think, it is necessary to use your pool any time of the day. This can be quite a useful service for commercial pools and properties as long as the heater is a good product and the installation is neatly done.
Pool remodeling, pool acid wash, and other options are available in our company and for everyone in the area. In essence, we can also take custom or personalized projects so that you have our professionals' support for other ideas, but if we cannot deal with them, we will always let you know in advance.
At SoFlo Pool Decks and Pavers of Delray Beach, we are here to accommodate your needs and ensure you can enjoy a stunning pool and deck. Hence, feel free to contact us and have our contractors work on your entire space so that you can finally get the desired result.
Below is our list of additional services: